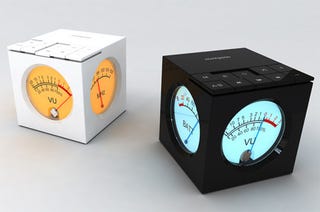 Before the rise of Napster and AutoTune, we had drugs and rock 'n' roll. Remember how great those were?
MintPass' Cube MP3 player, a 2"x2"x2" box, sits somewhere between concept and product (leaning toward concept), and incorporates design details from analog music into the digital realm. The VU (volume unit) meter, a former staple of audio equipment, is celebrated front and center, backlit by LED. Similar battery and RF gauges dominate two other main sides, with the very back of the unit offering USB and 3.5mm out. (Expect Bluetooth as well.)
And then there's the top, which is spattered with 10 buttons. REMEMBER BUTTONS?? I loved buttons, especially the kind that if you pushed down would stay down unless you hit other buttons. It's like pressing buttons for buttons' sake, which is pretty much the most wonderful experience I could imagine (other than drugs and rock 'n' roll).