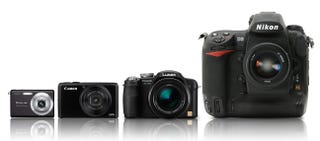 Talking to a camera nerd—or even reading about new cameras—can feel like translating from a different language. But it doesn't need to! Here, in this here post, is everything you need to know about cameras, without the noise.
When you buy a camera, you'll be pelted with specs from a salesperson, many of which are confusing, and even misleading. You will cower, and may cover your head for protection. He will keep pelting. And really, he has to—spec sheets and jargon are integral to camera marketing, at least for now. Here's what it all means, in one handy cheat sheet.
Types of Cameras
Before you set out to buy a new camera, or even just to get to know yours a little better, you've got to know the difference between the different types or cameras. Here are the ones you're likely to come across.
Point-and-Shoots: Also known as compact cameras. If you don't know what kind of camera you're looking for, or what kind your have, it's probably one of these. They're the smallest style of camera, typically—at least in the last few years—trending toward a boxy, mostly featureless shape. The lens is non-removable. The flash unit is built in. They have LCD screens on the back, not just for reviewing photos, but to use as a viewfinder as well. When you press the shutter button on a point-and-shoot, there is a slight delay before the photo is actually recorded. Many new point and shoot cameras will take video, and some even manage to record in HD.

Bridge/Superzoom Cameras: These cameras often look like DSLRs, but don't be fooled: They're just juiced-up point-and-shoots. They will typically come with longer lenses and slightly more impressive specs than your average P&S, and will give you a bit more photographic flexibility to play with. Sadly, they suffer from the same picture-taking delay, or "shutter lag," as point and shoots. The problem with bridge cameras, especially now, is that in order to get a decent one you have to spend at least a few hundreds dollars, at which point you may as well get a...
DSLRs: This unwieldy acronym stands for Digital Single Lens Reflex. Narrowly, this means that the camera has a mirror mechanism which allows photographers to see through the camera's lens while setting up a shot, and which flips up, exposing the image sensor (the equivalent to film in a digital camera). Widely, this means that the camera will have interchangeable lenses, a larger sensor than a point and shoot, and to an extent, more image controls. When you press the shutter button on a DSLR, it takes the photo instantly—no lag, like in a point-and-shoot. Many new DSLRs at mid-to-high price points shoot HD video; some manage 720p, some manage 1080p, but all turn out impressive results, if simply because of the cameras' lenses. That said, they're not really ready to replace proper video cameras yet, because amongother things, no DSLR to date has got the autofocus during video thing right.
These are the cameras that photographers, or people who call themselves photographers, use. They're also the ones that are capable of taking the best photos.
As a rule, DSLRs are more expensive than point and shoots. But they're getting cheaper. Much, much cheaper. Olympus, Nikon, Pentax and Sony all have DSLRs that can be had for under $500—and these are real cameras—rendering the entire category of bridge cameras kind of pointless.
Micro Four Thirds/Digital Rangefinder: Micro Four Thirds cameras are interchangeable-lens cameras, minus the straight-through-the lens viewfinder that defines a DSLR. In other words, they have larger sensors like DSLRs, have swappable glass like DSLRs, but use an LCD screen as viewfinderlike a point-and-shoot. This saves space inside the camera, meaning that—at least this is the theory—it can be more portable than an equivalent DSLR, while maintaining the same versatility and image quality. Most of them record video, too, and they're pretty good at it: They don't have the complex viewfinder/mirror system of a DSLR, so it's technically simpler to record video. Some of these cameras are styled like DSLRs, like the Panasonic Lumix DMC-G1, while some are styled more like portable cameras, like the Olympus EP-1.
This is a small category for now, and accordingly, prices are still high, starting at about $750. Panasonic and Olympus are basically the only game in town.
Sensors
The sensor is the part of the camera that actually records the image. In other words, it is your camera.
Megapixels, and image resolution: Megapixels have been central to digital camera marketing since the beginning (it just sounds like a 90s term, doesn't it?). A megapixel, quite simply, is one million pixels. If a one-megapixel image (or sensor) was perfectly square, it would be 1000x1000 pixels. They're usually rectangular, at 4:3 or 3:2 ratios, which means their resolutions look more like this: 2048x1536 pixels for a 3-megapixel camera; 3264x2448 pixels for an 8-megapixel camera, and so on.
As digital cameras mature, this number means less and less—it's easy to cram megapixels in a camera, but without good optics and light sensitivity, it doesn't mean that it's going to turn out an honest, clean, high-quality images at such a high resolution. My cellphone shoots at five megapixels, but the images look like screenshots from some kind of ghosthunting show. My DSLR shoots at 10.1 megpixels, but turns out images more than twice as clean and clear as my phone. My point-and-shoot is rated at 12.1 megapixels, but on close examination, its images are effectively blurrier than those from the DSLR.