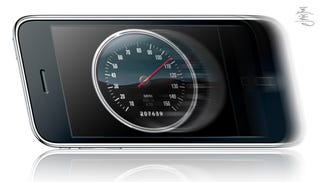 Thirty minutes north of the city, Chen waits to meet us for ramen. We're late. Brian's at the wheel of his late-model Audi station wagon, turning the control knob from letter to letter, dutifully twisting-and-clicking the noodle shop's name.
In the passenger seat, I've already got the address and driving directions up on my iPhone.
Welcome to the future of connected cars.
How our cars talk to the internet—and how we talk to our cars—continues to evolve. And it's about to get a lot better. Ford is putting a Wi-Fi router inside next year's Sync-equipped vehicles that will rebroadcast any 3G card's connection. Audi is experimenting with fingertip touch inputs. BMW is already trying to figure out how to put a "monster" antenna on their cars to support the faster next-generation LTE wireless standard "without putting this ugly lump on our cars."