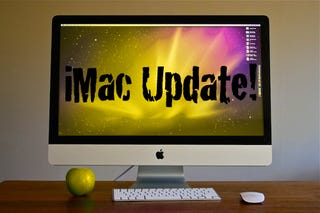 While Apple released the iPad this week, we scored their internal work order admitting the iMac's yellow screen problem, and one of our readers may have figured out how to fix it.
Can You Safely Buy a New iMac Yet?
Nope.
Why?
In the last week, ten readers have reported receiving yellow screened iMacs—the majority of whom are on their third system. Both the yellow/flickering screens have yet to be fixed.
What's Being Done?
We've seen two very interesting developments since the last iMac update. First, Apple delayed shipments on new 27-inch iMacs (but not 21-inch models) for three weeks in what we can only assume is an attempt to fix any manufacturing/shipping issues. Meanwhile, they're addressing the flickering problem, again, with a second patch that's coincidentally arriving in "roughly three weeks" itself.