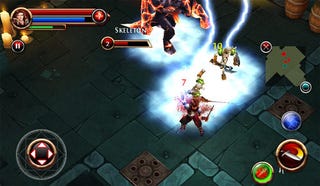 Dungeon Hunter HD
Until Blizzard brings Diablo to the iPad, Dungeon Hunter HD is the closest experience you'll find to the classic, top-down action RPG. You'll notice a few shortcuts (like grainy icons) that were taken in porting Dungeon Hunter from the iPhone version, but you'll quickly look beyond these minor blemishes as you hurl lightning bolts, develop skill trees and, of course, dungeon crawl for loot with superb graphics and some of the best controls you can find on a touchscreen. For $7, it's a no-brainer purchase if you enjoy the genre. [iTunes]
Buy. This. Shit.
Need for Speed Shift for iPad
Need for Speed Shift is a $15 game—in App Store dollars, that's the equivalent of thousands. But it's worth the price. What you're getting is a beautiful, real racing game that feels like it belongs on a console while scaling its difficulty from casual to hardcore gamers alike. You steer with the iPad, which is extremely effective. And from there, decide whether you'd like help with the braking and shifting, or whether you'd like to go full manual. (Both schemes actually work.) 28 real, beautifully modeled cars. From our count, at least 12 tracks with detailed environments. Race online or locally. For the App Store, it looks like an expensive game—notice it's over twice the price of RealRacingHD, which we also praised highly. If money is no object, Need for Speed Shift is the better, deeper game that would look like a bargain on the DS or PSP. And it's among the best-looking games on the iPad.
$15 and probably worth it.
Mirror's Edge
Mirror's Edge is EA's take on updating the side scroller for our finger-flicking times, and it is an impressive, addictive achievement. You're charged with controlling an outlaw courier, sending her scampering through 14 multi-stage levels with various types of swipes. Different combinations of these simple controls account for most the game's action, letting you pull of Parkour maneuvers and perform flying kicks to disarm security guards, in just one example. At $13, Mirror's Edge isn't cheap, but that doesn't mean it's not worth it by any means. The swiped controls satisfyingly match the movements they're dictating on screen, and it's a pleasure to fall into the game's rhythm, sending your character sliding under pipes and launching off rooftops in the beautiful game environment. Of all the iPad games I've played so far, this one felt like the most definitive iPad Game, per se: thoughtful design, striking visuals, and gameplay that benefits greatly from its adaptation to the touch screen. [iTunes]
It's expensive, but you're getting your money's worth: Mirror's Edge is a full fledged game, designed uniquely for the iPad experience.
Plants Vs Zombies HD
It's been widely acclaimed on almost every portable platform known to man, but I admit, I avoided Plants Vs Zombies, much because I knew it was coming to the iPad at a higher resolution. The game is beautiful, and tower defense titles (of which I'm a huge, huge fan) obviously work wonderfully on a large touchscreen. I was quickly suckered into way too much "test" time with Plants Vs Zombies, despite it being far simpler than the hardcore tower defense games I usually play (you don't route enemies through a maze like other games, and towers don't have quite the same rock, paper, scissors effects). It's just charming, addictive eyecandy. My only real complaint is that this, along with many other "HD" games don't include a free version for my iPhone, but its hours and hours of gamplay make up for that. $10. [iTunes]
Great, yet another tower defense game that I'm going to spend hours playing.
Zen Bound 2
The premise of Zen Bound 2 is the same as that of the popular iPhone version: wrapping up floating, rotating figurines with a long length of rope. But the iPad's bigger screen lets the game realize its title's promise, allowing for more delicate, nuanced wraps and resulting in a much more meditative experience. Full review here