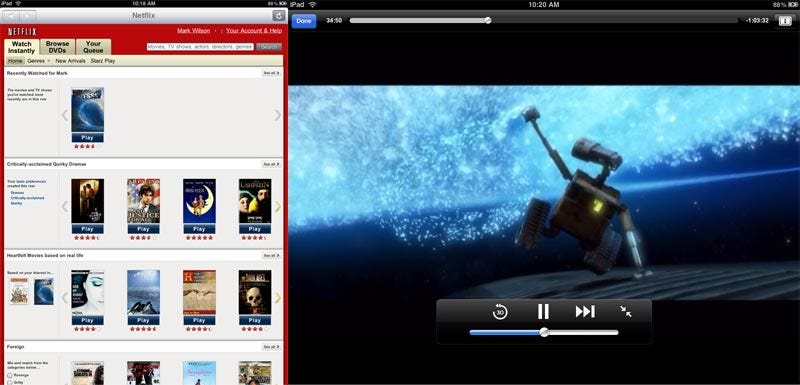 Netflix
Netflix on the iPad is freaking fantastic. Essentially the Netflix webpage ported into an app, you can scroll and arrow button tap (flicking doesn't work so great) through new releases, or you can view a list of your existing queue. One button press brings you to a full-screen stream of your video, which you can scrub through in a similar fashion to iTunes videos (just be prepared for a few moments of buffering). The only improvements I'd like to see are a Roku or Xbox-like Cover Flow option to flick through your queue, as well a generally smoother experience scrolling through the main movie browsing interface. [iTunes]
Stellar implementation, just a few minor hiccup-type bugs to be ironed out.
Star Walk
Blame our science geek roots, but Star Walk is one of the most awesome uses of the iPad's hardware we've seen yet. Just hold the iPad to the sky or ground, and it will transport you to the inside of a star map that identifies the constellations around you in realtime. Your iPad becomes a window to information through an effect that's just so shamefully cool that you feel like you're 10 again as you learn about space with real wonder. Star Walk is the sort of app that's a neat tech demo on the iPhone 3GS but really shines on a larger screen. Also, not that
GoSkyWatch Planetarium is a very similar, free alternative. But performance hiccups and the general UI make the whole experience a bit inferior to Star Walk. [iTunes]
Star Walk is a solid half step to the augmented reality future of star gazing.
ABC Player
Video looks crisp and loads quickly over Wi-Fi. You can skip around inside an episode—like you can on the website—but you're still stuck watching all the ads. No way to skip those, but if you're used to watching these 30 second spots from Hulu and ABC.com, then this should be no problem. Portrait mode works fine, with the bottom half of the screen taken by navigation, but when you're actually watching then you should go landscape. There's a zoom-in option too to fill the screen. Free. [iTunes]
Pretty damn good port of the ABC website.
Adobe Ideas
A free sketch app from Adobe, which looks powerful enough for someone who actually knows how to draw to produce some good content. This is what I pulled out in 3 minutes. It's pretty simple, but has opacity, color and brush size and compatibility with Illustrator and Photoshop on the desktop. It's free and decent so you can't complain. [iTunes]
Someone who knows how to draw will love it, but those of us who don't will enjoy scribbling.
Yahoo! Entertainment
Yahoo! manages to cram three apps into one with this baby so I'll tackle them one at a time since their respective layouts are pretty different.
News: This is kind of all over the place in terms of design. Ranging from Top Stories to Comics, each section has its own unique feel and layout that works well enough at first, but ultimately leaves you craving some consistency and organization. Overall, a very creative and refreshing effort that could use some editing.
Guide: The most utilitarian of the three apps. Input your zip or allow Yahoo! to access your current location and you can see what's playing on your cable provider in a clean and interactive interface. Very easy to use and worth the download alone.
Video: Stream news, weather, business, tech, and Onion video clips on your iPad. Quality tends to be inconsistent at best, but hey, it's free! [iTunes]
Creative overall layout and useful TV guide make this worth keeping. Free.
IMDB
A very clean and snappy interface. Looking up movies and actors is extremely intuitive and elegant since you can easily scan through top titles on the splash page or dive into the search bar up top. Taping the Browse button accesses TV schedules, Top 250 Lists, Moviemeter, and local showtimes-keeping you from having to exit out and search elsewhere. Photo galleries are fine tuned to play well with the iPad and produce crisp, clear images that can be browsed as easily as your local photo collection. But it's not without a few glitches. When switching from portrait to landscape mode the lower IMDB and Browse buttons seem confused where to position themselves and end up flickering back and forth between the left and and center of the screen. Movie trailers fail to launch and if you quit the app it does not resume where you left off, making for a tedious few moments while you renavigate. We'll have to see how soon this gets patched, but it's off to a fantastic start. [iTunes]
Great interface and intuitive navigation, although trailers fail to launch.
SketchBook Pro
Eight bucks and a stylus turns your iPad into a Wacom tablet. Obviously I can't draw as well as a first grader or come anywhere close to the advertised samples on the iTunes page, but SketchBook Pro is an amazing app that hints at the iPad's content creation potential. It flings you into its interface after a crash course on how to adjust, resize and manipulate your brushes, then you're let loose on a blank canvas to do your worst (or best). Using your fingers is a tad cumbersome since any unwanted input from your palm is interpreted literally and can add some stray strokes to that magnum opus, but thankfully there's an undo button. A stylus helped keep the line fidelity steady so consider purchasing one if you're serious about drawing. Recommended for artists and doodlers everywhere. [iTunes]
Fantastic sketch app despite the learning curve. Consider purchasing a stylus.
Phaidon's Design Classics
It seems fitting to flip through Phaidon's $20 Design Classics, an encyclopedic collection of 1000 timeless examples of industrial design, on an iPad, a device that will undoubtedly be a candidate for the next 1000 (the iPhone and iMac have already made the cut and appear here). The Design Classics collection originally appeared in a series of three very beautiful, very heavy volumes last year, and the iPad version reduces the bulk but retains the beautiful photographs and descriptions that appeared in the books. In the main view, the objects float in 3D space, and pinching with two fingers moves you forward through them chronologically. The animation in this view could be better, and I expect it will improve in a forthcoming update that is slated to include ways to search the collection by category, year, or designer. For now, my preferred way to browse the objects is one by one, swiping through each page individually. The pages include a single photograph of the object on a clean white background, with an icon that brings up some text describing the object's history. As it should, the app stays out of the way and lets the objects speak for themselves. [iTunes]