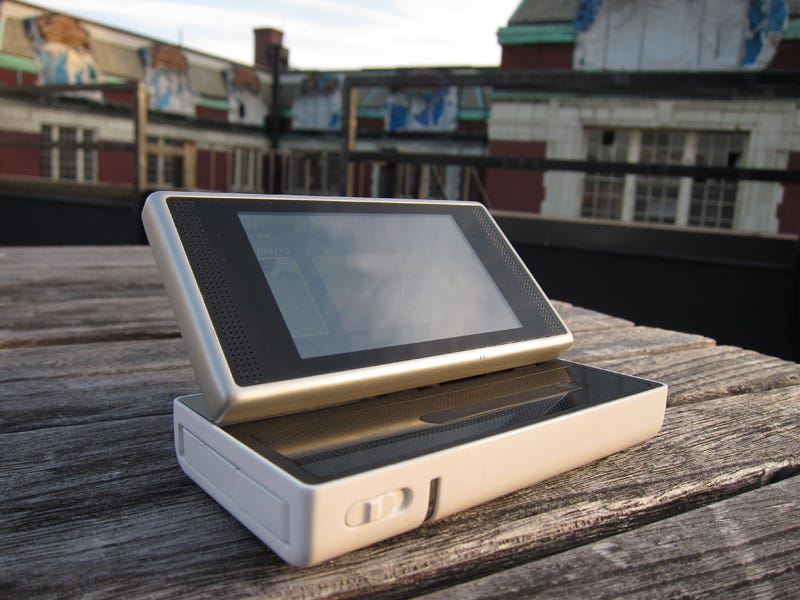 The pocket cam's claim to fame is being "good enough." The Flip SlideHD strives to be a little more, adding a sliding touchscreen for watching videos on the camera itself. That's biting off more than it can, or should, chew.
The genius behind the Flip pocket cam was simplifying the needlessly complicated process of shooting digital video. The Flip SlideHD, the company's first "shoot and share" camera, extends that simplification to watching the video you shoot. To this end, the Flip Slide adds a 3" sliding resistive touch screen that does double duty for recording and viewing. In its normal configuration, while recording, it lets you see what you're shooting, with Flip's stupid-simple controls reproduced as soft buttons on the screen. When popped into viewing mode, the screen sits proudly at a 45 degree angle, allowing you to set the camera on a table and watch your videos in wide screen.
That's all well and good in theory, but the sacrifices made to accommodate the sliding screen are huge. Both in spirit and in practice, the Slide seems like a perversion of Flip's essential simplicity.
The Thick and Thin
Under the hood, the $280 SlideHD has the same image sensor as the MinoHD, one that we thought could stand an upgrade when we reviewed it last October. Like the Mino, the Slide shoots 30fps HD video at 1280x720; it looks like pocketcam footage you've come to expect: good, not great. The SlideHD has 2x digital zoom, HDMI out and, like the Mino, lacks image stabilization, but it has twice the memory, 16GB, and four hours of record time. In terms of what it offers as a camera, there's not a whole lot of new ground to cover.