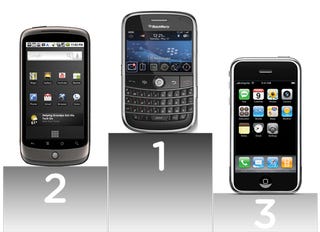 NPD Group's smartphone survey* puts total iPhone's sales for the first quarter at 21%. That's third in the ranking. Second position goes, for the first time, to the Android platform, with 28%. El Número Uno belongs to BlackBerry, with 36%.
According to Ross Rubin, executive director of industry analysis for NPD, the bigger factor in Android's win is the carrier distribution and promotion:
In order to compete with the iPhone, Verizon Wireless has expanded its buy-one-get-one offer beyond RIM devices to now include all of their smartphones."
With the iPhone 4 about to happen, HP buying Palm and Windows Phone Series 7 on the horizon, the smartphone wars are only going heat up. [BusinessWire]