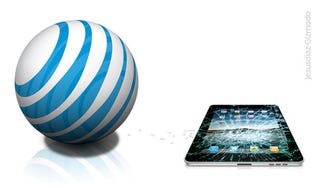 We're going to tell you the punchline right away: Run, don't walk, to get your iPad 3G before the end of the weekend
If you want to stream video while on-the-go from sources like Netflix or the ABC Player, or any of the hundreds of sources like them coming down the pike, you will quickly regret not having an unlimited data plan unless you are constantly connected to wi-fi.
iPhone and iPad owners cringed after hearing about the new data plans AT&T will be rolling out next week. While current data plan subscribers can breathe a sigh of relief – you'll be able to keep your unlimited plans (at least for now, there's some speculation they will go away too) or downgrade to one of the two new limited data plans – new subscribers looking to go unlimited will be SOL.