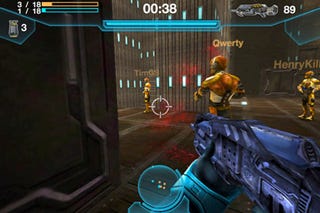 Archetype: An exceptionally shiny first person shooter optimized for the iPhone 4, with slick, functional controls. Best of all is the 5 v 5 team deathmatch mode, which is just like the multiplayer action you're used to on the consoles—including multiple guns, grenades, maps, and medals—except this one you play while you're sitting on the toilet. Mulitplayer works with Wi-Fi or, slightly less well, with 3G, but all in all you get a lot of pocket-size FPS intensity for just $3. Quite an achievement.

Chase Mobile: OK, very cool for Chase customers, not quite as cool for everyone else, but the latest update to Chase's app lets you take deposit checks by snapping pictures of them with your iPhone. Chase isn't the first bank to do this sort of thing, but they're definitely the biggest, and when gigantic companies like JPMorgan Chase do some futuristic stuff like adding cameraphone check depositing, it's nice to take a second out of your day to appreciate the effort. Free. Also available for the iPad

My TSA: You certainly don't want the Transportation Security Authority in your business any more than they have to be, but it turns out having them on your phone isn't all that bad. Their well-designed new app has real time status updates on major airports including info on delays and wait times for individual security checkpoints, as well as a fun "Can I bring my…" feature where you tap in a word—"shampoo," I tried—and it gives you a full rundown on whether or not you'll be able to bring it on an airplane. Free (My TSA is part of USA.gov's new collection o' apps. Helpful!)
Hipstamatic: Probably the most cleverly designed of the iPhone photography apps, and certainly among the most loved, Hipstamatic's recent upgrade brings all sorts of good stuff. In addition to getting iPhone 4 optimization and background uploading, there is a new stacks feature for organizing photos and batch upload to Facebook, Flickr or email. And a handful of helpful bug fixes rounds out a solid update through and through.

NYCMate: An iPhone version of the Android standby, NYCMate offers free, official pinch-to-zoom maps of New York's subways and bus routes. And once you figure out where to find your transportation of choice, it has schedules to tell you when exactly you should head in that direction. Free.