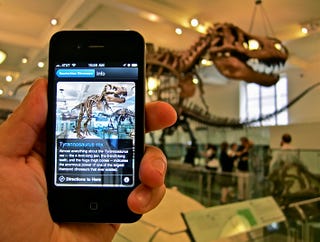 The American Museum of Natural History is dedicated to preserving our planet's past. But its new app, which offers turn by turn directions to exhibits, customizable museum tours, and exhibit information, is nothing less than state of the art.
A museum's treasures aren't worth much if you can't actually find them, and with a sprawling facility like the AMNH, which covers 500,000 square feet in total, finding the exhibits you're looking for isn't necessarily as easy as you might think.
But the American Museum of Natural History Explorer, an app for iPhones and iPod Touches which uses over 300 Wi-Fi hotspots to triangulate your position inside the museum—a feat of "indoor GPS" the museum claims is the first of its kind, and, if it's not, it's the most usable implementation of it I've come across—takes the stress out of finding the particular piece of history you're looking for.
After downloading the app on your own device or borrowing an iPod touch from the museum, you'll find that figuring out where you're going is just the start—you can also let Explorer guide you on preplanned tours or select from a list of exhibits and specimens to plot your own route through the museum. There's an interactive fossil treasure hunt for youngsters, social media integration for updating your Twitter and Facebook friends about your day at the museum, and, yes, instant directions to the nearest restroom (which the museum staff explained is visitors' most commonly inquiry.) The app, which was developed by Spotlight Mobile, funded by Bloomberg, and runs on a Wi-Fi network implemented by Cisco and Accenture, has a slick visual design to match its impressive functionality.
I roamed around the fourth floor of the museum this morning with Explorer as my guide, and overall it was an excellent experience—the app pinpointed my location accurately and guided me smoothly from room to room. Sure, part of the joy of the museum visit is the contemplative stroll—a rare respite from a hectic day—but even if you ditch the navigational functionality and just use it for getting some further info on the fossil you're looking at, it's incredibly handy.