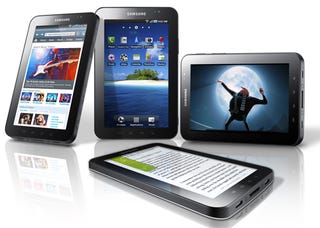 We've seen numerous announcements of tablet computers in recent weeks, as the R&D labs of the world push out their hastily assembled attempts at competing with Apple's game-changing iPad. But are any of them up to the job?
Last week alone saw ViewSonic, Toshiba and Samsung all officially unveil new models of keyboard-less computer, with a mish-mash of operating systems and screen sizes hoping to somehow build themselves a market in the wake of Apple's market-leading device.
So here's a summary of five of the best tablets out there and on the way this year. Or, to put it another way, the iPad +4.
Samsung Galaxy Tab
Screen: 7-inch Super TFT-LCD, 1024x600
Storage: 16GB internal, up to 32GB micro SD
Processor: Cortex A8 1.0GHz
OS: Android 2.2
The closest Android has got to Apple so far, at least in terms of hype and noise prior to its launch. Officially unveiled at IFA this week, the Samsung Galaxy Tab features a 7" screen and the latest 2.2 version of Android at its core.