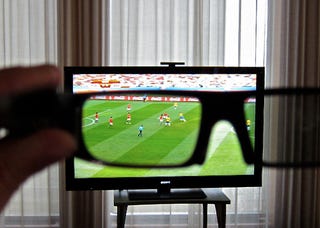 It seems like 3D is everywhere. Movies, living rooms. Even real life is 3D! But how does it all work?
Most 3D operates on a single basic principle—tricking our dumb, binocular brain into interpreting a 2D image into one with depth. The most basic way to do this is stereoscopy, which is essentially showing a slightly different image to each eye, which the brain mashes together into a 3D image.
3D that requires four eyes
It's easiest to do stereoscopic images with glasses or other dorky eyewear to change how you see stuff—hence there are a lot of variations in 3D glasses tech.
Click to view
Anaglyph
An anaglyph image is the old-school, cheap 3D we all know and have mild nostalgic attachments to: An image has two different color layers, one for each eye, with slightly different perspectives. When we look at them through those awesome plastic glasses (usually with red and blue lenses) that block one layer in each eye, our easily tricked brain takes the resulting separate image from each eye and mashes them together to make a 3D scene in our head.

Polarized glasses
Polarized 3D glasses are the more modern choice for 3D for the masses—you've worn them if you've caught Avatar or Tron: Legacy or any other big-budget movie in 3D, since the big advantage they offer over anaglyph 3D is full-on color. They work kind of the same way as the red/blue glasses—two synced projectors throw images with slightly different perspectives up simultaneously, but at different polarizations. The polarized glasses only allow a single corresponding polarized image into each eye, and the brain does the hard work again, combining two separate images into a single 3D one. While it's mostly used in theaters now, it could be coming to living rooms in the next couple of years.

Active shutter glasses
If you buy a 3DTV from any of the majors—Sony, Panasonic, Samsung, etc.—or have played a PC game in 3D with Nvidia's 3D Vision tech—you're using active shutter glasses. They actually block vision alternately in each eye, synced with the refresh rate on the display. The glasses rapidly darken each lens while the display alternately shows images with a slightly different perspective (this is called alternate frame sequencing). It's essentially the "show different stuff to each eye" principle taken to its logically absurd conclusion—literally blocking the sight of the unwanted eye. Yes, these complicated goggles usually run over $100 and are heavier than the dorkiest dorky dork glasses, but they're the best 3D technology at home for the moment, and will be for at least the next couple of years.