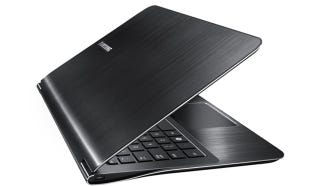 It looks like the 13-inch MacBook Air finally has some serious competition: the 13-inch Samsung 9 Series is a shade lighter, a touch thinner, and looks like the Air's evil twin.
The differences in size and weight may amount to not much more than a rounding error—2.89 pounds to the Air's 2.9, and profiles of .64 inches versus .68—but its black metal finish and sleek curves make it look like it belongs on the deck of the Death Star.
The 9 Series packs a 1.4GHz second-gen Core i5 processor, including Intel's much-improved integrated graphics, and claims a downright decent 6.5 hours of battery life. You're also looking at 4GB RAM, a 128GB SSD, and a, surprisingly for the frame, a 1.5watt subwoofer. Gilding this very thin lily are USB 3.0 and built-in WiMax 4G. It's a wicked katana.