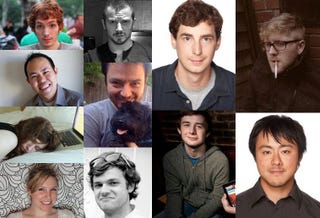 We write posts every day without sharing too much about ourselves, so we decided to maintain individual Facebook pages for our thoughts, photos, and random non-Gizmodo links. Check 'em out—and don't be afraid to "like" them.
You can click on our names below in order to head to our Facebook fanpages.
---
Once upon a time, Brian Lam lurked around boxing gyms and the offices of WIRED and Maximum PC. He eventually left those for Gizmodo and its tiny staff of four people—two writers and two interns. Now that he's helped both the site and the staff grow, our Editorial Director Extraordinaire is trying out a side project called Scuttlefish, a site focusing on the awe-inspiring nature of the sea.
When Jason's not sticking things down his pants or cooing over his adorable pet bunny, he's running a pretty tight ship as Gizmodo's Lead Editor. It's difficult for any of us to misbehave too much under his watchful eyes, so we often try to get him drunk when we want to cause mischief.