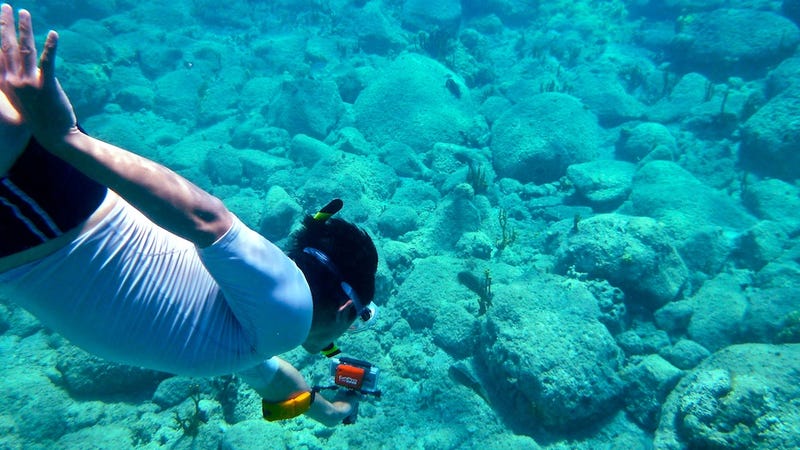 When Jaques Cousteau took his first underwater videos 80 years ago, they were simply of his wife Simone splashing around.
This little story reminds me of the videos that I took using GoPro's 3D sports camera kit. I grabbed some footage of an octopus while on vacation in the Caribbean, and a few good wipeouts of my buddies surfing some shitty waves. I have little doubt that my amateur filmmaking is the kind that puts crowds to sleep, but I took this video with GoPro's waterproof 3D sports camera kit, which melds the film of two GoPro cameras into one juicy 3D shot. The content may be nothing special, but the spectacle is really the unpolished but fascinating use of technology in just the right place. 3D Turtles!
I think the sports camera is the perfect video gadget to pick up an extra dimension. A few years ago most helmet cameras went to wide angle lenses to ensure they got all the action in frame, but also to reduce the amount of apparent shaky cam. It worked, but had the effect of making those jumps and waves we might have thought huge look minuscule when viewed on screen. Adding 3D gives depth to the trees and objects rushing past you, making things as immersive as I'd hoped they'd be.
This kit takes two GoPro HD sports cameras (not included) and turns them into a single high definition 3D camera that is still waterproof and rugged, using a sync cable and an extra large housing that is waterproof to 180 feet. Videos from each camera need to be loaded separately onto a PC. And the included software does the important job of pairing them, combining the files into single movies, adjusting the convergence points so you don't go cross-eyed watching your videos and adjusting between various kinds of 3D (side by side, red/blue, etc) for playback and export to services and software like Youtube or iMovie. (Here's more detail on how it works.)