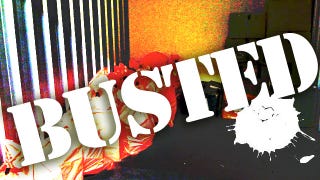 Think you got a good deal on those Beats by Dre? Might've. Or maybe you paid too much for a knockoff. Thanks to easily accessed suckers like you, business in the world of phony high-end audio has never been better.
Early on the morning of October 28, 2010 a massive strike force assembled outside the Meipai Electronic Audio Factory and three other storage facilities in and around Southern China's Enping City. What had started out as a tip from a handful of major audio equipment makers led to a months-long investigation by Guangdong Public Security Department and Jiangmen City police. By day's end, four people were in jail and 1,200 counterfeit audio items were in police hands, and the so-called "New Dynamics Audio Equipment Factory" was effectively shut down. It was the first salvo in a new war against fake wares, lead by an unlikely coalition of audio companies who, though fierce competitors in stores, are closely allied against a common enemy.
This February, the same international initiative helped tip authorities off to another den of fakes, this time in the UK. Together, the two stings have netted counterfeit audio gear worth more than $500,000. Sounds like a lot, but that's just a teensy drop in a giant bucket: a multi-billion-dollar industry that's proving nearly impossible to quash.
The two recent busts came after months of investigation—including test purchases, surveillance stakeouts, and a series of coordinated raids on warehouses and private residences. All told, authorities have managed to confiscate everything from fake mics and headphones to loudspeakers, amps, and mixers.
The UK raid in particular represents the largest seizure of bogus audio equipment (mostly headphones) in the country's history, according to Sennheiser and Monster. And the two counterfeiters now under investigation are reportedly linked to Britain's third largest online retailer.
While the size and scope of these separate raids may be noteworthy, counterfeiting and copycat designs are of course nothing new to the headphone and A/V industry.