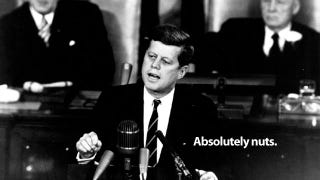 There are few moments in history as defining for a nation and the world as May 25, 1961. That's when President John F. Kennedy announced a plan to put a man on the Moon before the decade was over.
There was only a small problem: There was no plan.
Kennedy was talking in front of a special joint session of the US Congress. Back in NASA's headquarters, James Webb—the space agency's administrator—was probably feeling dizzy, thinking about the titanic challenge that was in front of him and his team—a tiny fraction of the 400,000 people that the Apollo program would employ in its heyday. Even while Webb had previously conceded to Kennedy that it could be done, the fact is that NASA had absolutely no idea how to put a man on the Moon. In fact, they couldn't even begin to imagine the scope of such an endeavor.
The proof is that their first estimated budget of seven billion dollars was changed to $20 billion after things started to clear up a bit—finally reaching a grand total of $25.4 billion in 1973. And that's just for the Apollo program. Add the Mercury and Gemini programs that had to happen before the first Saturn left the launch pad.
The unknown
But it had to be done. The feeling worldwide was that the Soviets were way ahead in the space race, which was exactly right. Only twenty days before Kennedy's speech, NASA had launched Alan Shepard into space, the first US man to reach space. And, unlike Yuri Gagarin more than a month earlier, Shepard didn't even orbit Earth. He was just launched like a cannonball.