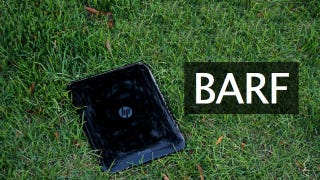 Gadget design is in a pretty good place these days. Even companies like Sony and Dell—known to commit many a design atrocity in their days—are starting to make devices that look pretty. But there's still one crutch companies and designers lean on when they want to make something they think people will lust after.
They make it glossy. Ugh. Stop it.
Why do I hate glossy shit? Because it's lazy and cynical. Product marketers think that if they take a piece of shit and polish it until it has a layer of high sheen, the masses will fawn over it without question. They assume that we're crows, drawn inexorably to the nearest, shiniest object. It's bunk.
Honestly, it wouldn't be so bad were the glossiness not actively hurtful; glossy gadgets tend to be bubbly and maximal and overly fond of displaying your fingerprints. Their designs doesn't serve their functions in any meaningful way. Gloss is a visual trap, either coming at the cost of quality or meant to disguise the lack thereof.
Making a shiny device in 2011 is the equivalent of painting it silver in 2008. It was once a way to break away from the utilitarian pack and give a product the look of luxury. Now it's just a way to give something a look of tackiness. And a large part of the blame lies with the most common material used in this scenario: plastic.