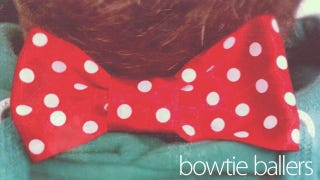 No one wears ties anymore. Even fewer people wear bow ties. They're really freaking hard to tie, for one. And the resulting aesthetic is, shall we say, unusual.
But when Brad Goreski, fashion stylist to celebrities and designer Kate Spade, chose his outfits for the Fall and Winter 2012 fashion shows this past week in New York, he typically went with a bow tie. In the photo below at the Levi's show he snuggles up to DJ Harley Viera Newton, model Jessica White and socialite Birdie Bell in the front row.


Bill Nye the Science Guy, on the other hand, is more often flanked by beakers than fashionable women, but he owns 150 bow ties. Tucker Carlson is surrounded mainly by his smugness, and he often wears a bow tie on Fox News. Many historical figures and politicians, including Winston Churchill, favored the bow tie. Raj Peter Bhakta wore one on The Apprentice. Louis Farrakhan, the leader of the Nation of Islam, loves a bow tie. The womanizing Chuck Bass can frequently be spied in one one on Gossip Girl. Columnist George Will doesn't wear them exclusively, but because the bow-tie statement is so strong, it's impossible to imagine him wearing anything but. And then there's bow-tie-wearing Andre 3000, that dandy of rap music. They may be in the minority, but the list of celebrities, politicians and fashion icons (Karl Lagerfeld) goes on. Orville Redenbacher.