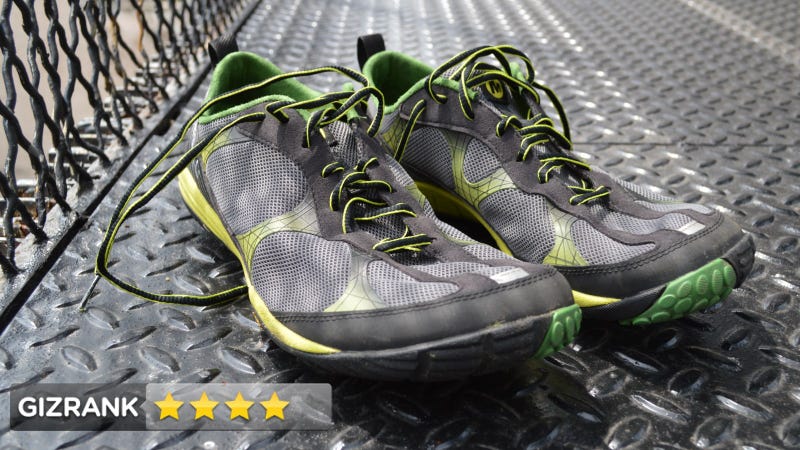 So, you've heard about all of this minimalist, "barefoot-style" running, and you want in. Thing is, those toe-shoes look really weird. You don't want any padding, but you don't want your foot pierced by rocks either. Is there a balance point? Yes, there is.
What Is It?
Merrell's second generation of minimalist road runners, very similar to its hugely popular Trail Glove series.
Who's it For?
People who want a minimalist running experience on pavement, but don't want that toe-shoe look.
Design
The first thing you'll notice is that they look like a normal shoe, which is great for A) your social life, and B) gyms that don't allow toe-shoes in the weight rooms. The shoes are very flat and have a wide toe box. The sole is made by Vibram, and it's not totally unlike their FiveFinger shoes (though it is a bit thicker). They feel very solidly built.
Using It
It's like your feet are being swaddled by a loving mother; they feel secure, and the lacing system makes foot-sliding all but non-existant. At the same time the wide toe-box allows your toes to splay naturally, which is critical for barefoot-style running. The arches are high enough that they may touch your foot, which bothers some minimalist runners, but they aren't thick enough to provide any support, which is a good thing. The sole is thick enough that small rocks won't bother you and they're great for light trail running, but they're flattened for the road, so they do slide in mud.
The Best Part
That toe-box. I love it so. Your toes can really spread out and grip the ground almost as well as they can in toe shoes, and they never feel cramped.
Tragic Flaw
There are flaws, but nothing I'd call tragic. The sole is a bit too thick and rigid for hardcore minimalist runners who really want that full flexibility. For all but the most hardcore, though, it's fine.
This Is Weird...
It's odd that Merrell went with such a prominent arch for "minimalist" shoes. I have pretty high arches, so it didn't bother me, but runners with flatter feet may find this annoying.
Test Notes
The word "Glove" is well-earned. The lacing system gives you a ton of control over the fit. The upper is smooth enough that you can go sockless if you prefer.
At 8 ounces each, they're lighter than most standard running shoes, though not nearly as light as the Vibram Five Fingers or the New Balance Minimus Zero Trail (which are an insane 4.4 ounces each).
Ventilation is pretty good, but they're definitely a bit warmer than other minimalist options.
The only time I felt a hot-spot (a pre-blister) was on a 5.5 mile run, and it was only on one foot, so I'm 90-percent sure it's just because I didn't lace that one up tight enough. On all other runs, it was dreamy.
There are a bunch of color combinations, and they actually look really good. You can wear minimalist shoes without being stared at like you're some kind of weirdo.
As with all true minimalist shoes, there is no padding in the heel, and there is zero drop from the heel to forefoot. That makes it easier to maintain mid-foot striking while running. However, if you wear them for walking around down you have to adjust your gait to keep from bruising the hell out of your heel.



Should You Buy It?

If you want to try the minimalist running experience then yes, absolutely. They are absolutely the most comfortable minimalist shoes I have ever run in, and they are currently the leading contenders for what I'm going to wear during the NY Triathlon this July, provided I've built up enough lower-leg and foot strength by then. At $110 bucks, they aren't the cheapest, but they are simply terrific shoes. [Merrell Men's Road Glove / Merrell Women's Dash Glove]

A Word of Caution: Minimalist running is not something you can just dive into, even if you're already a very strong runner. You must start slow or you can really hurt yourself. Merrell provides some information about making this transition. They also have a female-specific educational site for barefoot running. Really, go very easy at first.

Note: The women's version of this shoe is called the Barefoot Dash Glove.

Merrell Barefoot Road Glove Specs

Type: Running
Weight: 8oz
Drop: 0mm
Men's Sizes: 7 - 15
Women's Sizes: 5 - 11
Men's Colors: 7 options
Women's Colors: 7 options
Price: $110 (retail)
Giz Rank: 4.0 Stars