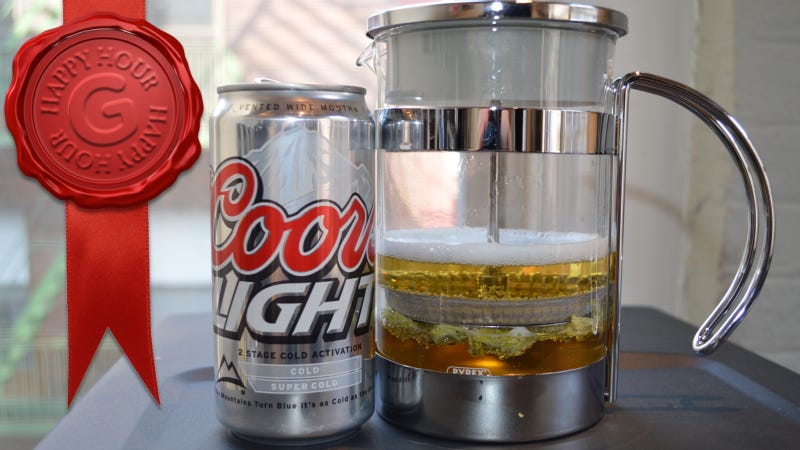 You know what's great about cheap, shitty beer? The cheap part. The end. Sure, it's fun to be nostalgic about the first beer you ever drank or whatever, but if someone leaves a bunch of crappy beer in my fridge, I just want to use some kind of magic spell to turn it into something delicious. Could such a thing be possible?
It's Friday afternoon, you've made it through the long week, and it's time for Happy Hour, Gizmodo's weekly booze column. A cocktail shaker full of innovation, science, and alcohol. Let's polish a turd and toss one back!
The Concept
This project was inspired by the Dogfish Head brewery. For years, they've been making and selling a cool invention called Randall the Enamel Animal, which is a big rig you can use to add flavors to your favorite beers. Interest was redoubled recently, when they recently unveiled the Randall Jr.: The Mini Enamel Animal. Maybe you saw the video.
It looks like a slender sports bottle, but instead of Lexan it's made of glass. It's double-walled to add insulation, and it has a fine mesh filter in there. You just pour in your beer, add your ingredients, let it sit for ten minutes, then pour it into a glass. Sounds simple, right? And sure enough it works really well for adding a lil' somethin' to an already-good beer. At just $20, people went crazy over it. We figured that's what we'd use. Fate had other ideas; more on that in a bit.
The Technique
For our shitty beer, we decided to go with Coors Light. Are there shittier beers? Sure, but this one is very easy to find. And nearly flavorless. We were going to change that.
I spent a good hour talking to Carl at Brooklyn Homebrew, and we contemplated the various possibilities. I ended up leaving with a bag of Simcoe raw hops (piney, and fragrant), a bag of "chocolate rye" dark roasted malt (which Carl ground nice and coarse for me), and a little bag of sarsaparilla just to mess with. Then I hit the grocery store for another grabbag of ingredients.
Unfortunately, somewhere between my apartment and the Gizmodo Test Laboratory, the Randall Jr. cracked and shattered in my backpack. The Randall Jr. was such a huge hit that Dogfish is completely sold out of them. I called up to beg, but they couldn't help. Good news, though: They said I could do the same thing with a French press. Really? Well, okay...
Batch 1: Just a Lil' Bit
I added 3 grams (a few pinches) of hops to the French press, poured in the 12 ounces of Coors Light, pressed it down until the ingredients were submerged, then put it in the fridge. I checked on it after five minutes and noticed that huge bubbles had formed around the hops, which was inhibiting some surface contact with the fluid, so I pushed it down a little further. After about 15 minutes I poured it off into a glass. The color was unchanged, but there was a faint aroma of hops. Upon tasting, though, it pretty much tasted like plain old Coors Light, but flatter. One of the key components to Dogfish's Randall Jr. is that it's a sealed system, which limits the amount of carbon dioxide that escapes. Hmm...
Batch 2: Darker and Harder
Knowing that I hadn't solved the carbonation problem, I decided to just go for more flavor for now. I tripled the amount of fresh hops I used (9 grams), I added two tablespoons of whole coffee beans, and three tablespoons of chocolate rye malt. The result was quite dark and a bit cloudy. Still lost most of the carbonation. The good news, though is that it didn't taste like Coors Light anymore—it had a lot more flavor. The coffee was a bit too much, but it was hoppy and malty. Still very thin. Dry. Like, y'know, a light beer. It had the color and some of the flavor, but none of the richness. This is all the encouragement we needed to proceed, however.
A Change in Process
We weren't happy with the French press method because we lost most of the fizz. I flashed back to a recent camping trip and one of my favorite gadgets from it: the GSI Outdoors H2jO Coffee Filter. You pour the coffee into the basket, screw it on a Nalgene (or other wide-mouth) bottle, pour in the hot water, and bango, backcountry coffee. Seemed like I could do the same thing with flavors and beer.
Batch 3: Closer and Closer
I used the same ratios as batch number two (plenty of hops and malt), except I yanked out the coffee beans and added a teaspoon of sarsaparilla, hoping to add some sweetness. Rather than putting the ingredients into the basket of the H2jO, i just put them in the Nalgene bottle, added the beer, then used the H2jO as a filter when I poured it out. Carbonation loss is still an issue. Even with the sealed lid, the many points of nucleation created by the hops and ground malt really just pull the fizz right out. Damnit. But wait, last week we learned how to add bubbles to mixed drinks. So I used the Perlini system on the beer, and sure enough, it gave it a nice little bubble-boost. It wasn't bad, but the flavor was unfortunately overwhelmed by the sarsaparilla—too root-beerish. Foiled again.