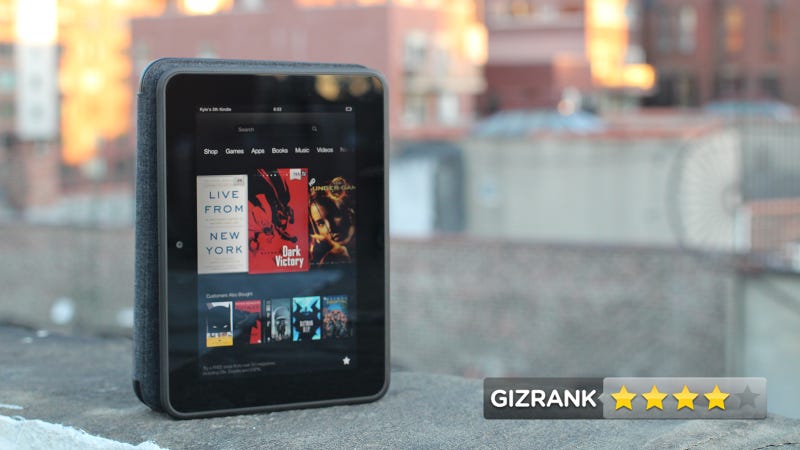 In some ways, the idea of the first Kindle Fire was more impressive than the product itself. It was a $200 tablet that actually worked. That alone was mind-blowing. But after Google's Nexus 7 bombshell—and the iPad Mini looming—Amazon has to do more than cut costs this time. The Fire HD has to shine.
What Is It
A $200, 7-inch tablet from Amazon.
Who Is It For
Anyone who wants a 7-inch tablet for reading books or watching movies, but not a hardcore, multitasking workhorse.
Design
It's beautiful. The physical body of the Kindle Fire HD is thoughtful, understated, and comfortable. It could almost pass for a tiny iPad 2 from the front, just with a camera on one side, if it weren't for the soft-touch paint on the back, and the dual rear speakers.
Compared to the original Fire, the Fire HD is a little wider thanks to a larger horizontal bezel. It's also got rounded corners and a rounded back panel. Basically, the first Fire was a nearly perfect cubic rectangle, while the Fire HD is what you'd get if you flattened it out a bit with a rolling pin.

Using It
The Fire HD feels like a boutique Frankenstein at times. The sum of its parts is sublime—it's got top notch build quality, ergonomics, sound, a stellar ecosystem, and a screen to die for. But it's hard to shake the sense that the nervous system connecting one premium component to the next is still an imperfect home-brew that's not fully cooked.
The retina-caliber display makes reading books and articles easier on the eyes; comic books and magazines are actually readable without zooming in. That's a welcome change from the Fire HD's predecessor, and might be the first time reading a book on a backlit screen doesn't feel totally idiotic.
Double tapping a magazine article brings it up on a clean, white, book-like format. Tap a (blessedly visible) X to get back to the full layout. It's a really great way to make magazines more readable without reducing them to an Instapaper queue.
All of your Amazon content—video, music, books, etc.—is available in the "Cloud" section of the appropriate tabs. Video especially is nice to have in there, since it's the most storage intensive. The Fire HD's improved Wi-Fi helps some with pulling down the big files, but mostly it's the same as downloading from any other big store: Click download, and a few seconds later, you'll probably have enough of the movie downloaded to begin watching.
Basically, the Fire HD is wonderful to hold and touch and look at and listen to. It's exactly what you'd want any tablet to be. But that doesn't mean it's perfect.
Software
Like the original Fire, the Fire HD runs on a custom software platform built on Android. This one's built on 4.0 Ice Cream Sandwich instead of the old 2.3 Gingerbread build—sadly, Jelly Bean and Project Butter, the reason Android got so silky smooth in 4.1, won't be making an appearance. All of which is to say it's not as fast as it could have been, but this version is much smoother than the touchy-then-laggy-then-touchy-again original.