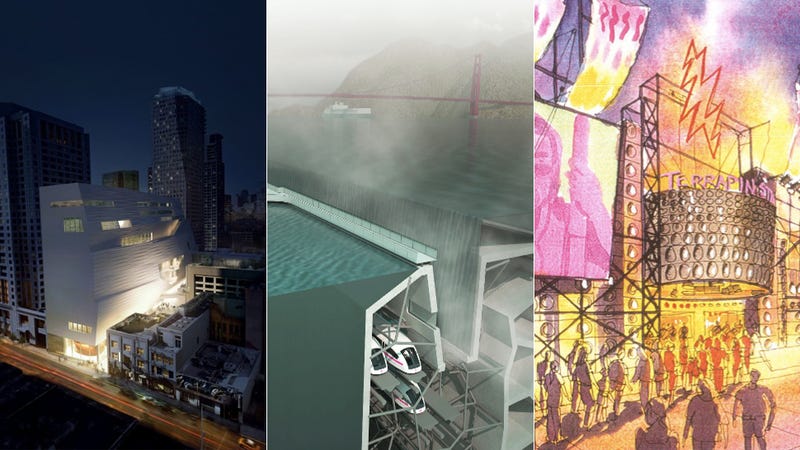 When you live in a city for a while, it begins to feel—for better or for worse—like every block is completely familiar. But there's a heck of a lot of invisible history inherent in even the most recognizable sites. This month, San Francisco is celebrating its own unrealized gems; Unbuilt is the theme of the AIA's monthlong Architecture and the City festival, with a series of special exhibitions showing bizarro SF.
Curators Margie O'Driscoll, Danielle Rathbun, and Emi Stielstra started out researching alternate plans for major landmarks like Alcatraz and the Golden Gate Bridge, then expanded the scope to include present-day projects that will eventually become part of our urban silhouette. "Curating is about vision, aspiration, investigation, and dumb luck," O'Driscoll tells Gizmodo of the search. "I hope visitors understand that the process of design is complicated and never, ever, easy—and the simplest designs can be the most difficult to achieve."
Take a look at some of the striking might've-beens and will-be-soons below, and check out the calendar of Architecture and the City events going on through the rest of the month here.
---
Bay Bridge Urban Farm
Construction on the eastern span of the Bay Bridge finally finished up this week. The now-redundant adjacent structure span will be dismantled—which is supposed to take about three years—but in 2009, David Dana of Taller David Dana Arquitectura proposed that a series of modular, land-filled boxes fill in the gaps for an airborne take on farming.