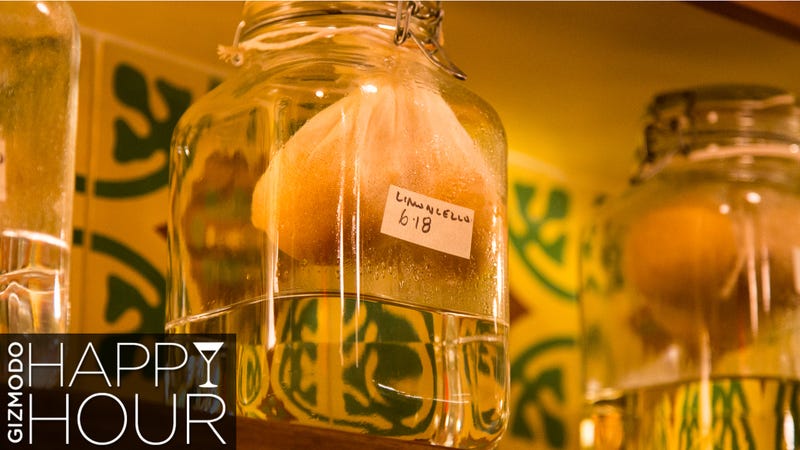 Limoncello! That sweet, tart, and refreshingItalian after-dinner digestif can be a wonderful thing. But, typically, when you go for the store-bought stuff it's cloyingly sweet, and doesn't have any of that fresh zip to it. Here's the good news: It's simple to make at home and customize it to your own taste, giving you the perfect balance of sweet, sour boozeroo.
It's Friday afternoon, you've made it through the long week, and it's time for Happy Hour, Gizmodo's weekly booze column. A cocktail shaker full of innovation, science, and alcohol. It's like a lemon playing a cello.
What Is Limoncello
Limoncello is an Italian liqueur, traditionally served after meals, or sometimes as a welcome drink. It's typically served chilled at the very least, and occasionally it may be so cold that it borders on Slurpee consistency (though it has to be a lower-proof version or an extremely cold freezer to make that happen). While it's typically served straight, it also makes for a killer cocktail ingredient.
Generally speaking, there are only three ingredients in limoncello: sugar, spirit, and lemon. Occasionally you might find one that adds a dash of rosemary or another herb to the mix, and, if that's your thing, we won't judge. Some also use grapefruit, orange, pomelo, or other citrus, but then it's not actually limoncello (you need limone for that). It's generally clear with maybe a little cloudiness, and yes, it's super easy to make, you just need a little patience.
The best limoncello I've ever had was at Franny's in Brooklyn. It came after a large meal full of pizza and pasta, and it had that eye-opening, rejuvenating effect. Later, when we went back to Franny's to get the scoop on which glasses you use for which drinks, I happened to catch a glimpse of the limoncello being made. It utilized a technique I'd never seen before, and luckily, they were happy to share the recipe with us.