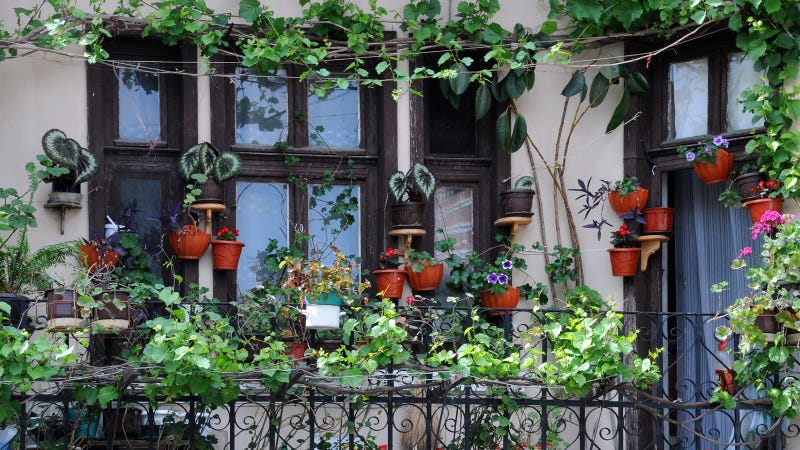 Look, you're already stuffing your entire life into a 100 sq ft box, you might as well maximize your balcony's utility as well. With some minor augmentations, you can turn even the tiniest outdoor space into a personal Babylonian Garden.
Plant What in the Where Now?
Before you get started slapping plants up all over the place, you're going to need a solid planting plan. Start with a scale diagram of your outdoor space and try to envision what you'll want to put where, taking into account the plants' lighting, temperature, and moisture requirements as well as any existing furniture, grills, and whatnot. Be sparing in your planning to start—you can always add more plants later—just make sure that you leave enough space for people to move around comfortably out there. Remember, this is your garden, not a nature preserve.
If you're having trouble deciding what to plant, or if your climate will allow for it, head over to Sproutbot. This handy gardening database will not only tell you when to plant, it'll even mail you the proper seeds.
Install a Few Wallflowers
Your patio has plenty of arable space, it's just that it's mostly vertical. To take full advantage of this space, you can always build and install a smaller version of the orchid wall that recently opened at the NY Botanical Gardens. These shallow vertical planters are packed with sphagnum moss or other suitable substrates, seeded with orchids, Bromeliads, ferns, and other aerial-root plants, then hung. They look amazing when done right and properly cared for, but they are labor intensive to construct and maintain.
An easier and less costly option is to use a vertical, soil-based planter. Take the Urban Garden planter for example. These eight planter pouches can be hung on any wall (or off the balcony) and grow more conventional, hardier garden crops rather than temperamental orchids. Just hang it, fill it, and plant it.
If you'd prefer a more compartmentalized approach, or simply don't want a hanger garden taking up the full wall face, you can easily make your own attractive and dirt-cheap alternatives. The Gutter Garden we shared earlier this year has produced roughly 10 pounds of lettuce this season and works well for any shallow-root herbs, decoratives, or crop plants. Plus you can make multiples and stack them at a slight angle up the side of the wall (think the first level of Donkey Kong) then water the top one only and let it run down through the rest. Of you can always just mount some recycled cans to the wall to lend a more rustic feel.