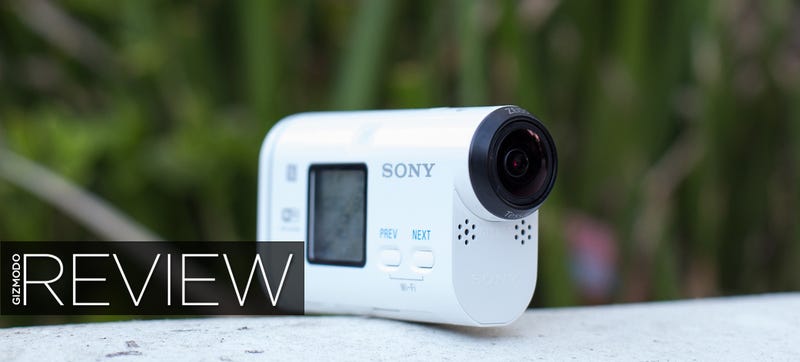 For years, if you wanted an action camera you would buy GoPro by default. And for good reason! Sony has caught up in a hurry, though. Its newest entry into the increasingly crowded field looks like it might be one of the first legitimate GoPro alternatives. It just depends on which compromises you're willing to make.
What Is It?
The Sony Action Cam HDR-AS100V (real catchy name, guys) is Sony's latest answer to the GoPro. As you might expect, it's a lightweight, rough-and-tumble, wearable camera for recording your various adventures. It can shoot video at up to 1080p at 60 frames per second (or 720p at 120fps), and at a bitrate of up to 50Mbps.
Why Does It Matter?
GoPro needs some competition, and no one's positioned better to provide it than Sony.
Design
It's been a while since I studied geometry, but I'm pretty sure there isn't a word for the AS100V's shape. It's an extended oval if you look at it head-on, and it's a rectangle if you look at it from the side. Up front is a just Zeiss lens and stereo microphones. On the side is a small LCD screen and two buttons that allow for navigating up and down through various menus and settings.
On the back is the record start/stop button and a switch to lock the record button, so you don't accidentally start or stop filming. Pull another switch, and the back door opens up, exposing the battery and micro SD card ports. On the bottom are two panels that cover ports to the micro USB port and to the micro HDMI port and microphone in. There's also what looks like a hole for a tripod screw, but in fact it's a smaller screw-hole so you can mount an accessory that allows you to mount a tripod. They should have just used a normal, 1/4-inch tripod screw hole.
Why all the port covers? Because the AS100V is "splashproof" without a case on it. You can't swim with it or anything, but it should survive a drizzle. The package does include a waterproof case, but it's a big step backwards from last year. Sony's old waterproof case (on the AS15) had you protected up to a depth of 197 feet. Now? 16 feet. Forget SCUBA; I routinely dive deeper than that when I snorkel. Sony wanted to cut the bulk down, but it's way too big of a compromise. GoPro slimmed down its case, too, but it's still waterproof to 131 feet.
In addition to having built-in Wi-Fi, the AS100V also has GPS (something GoPro doesn't currently offer) and NFC for easier pairing with an Android phone.
Using It
First, a little about our testing methodology. For this review we did some exhaustive comparison against the GoPro Hero 3+ Black, the winner of our recent Action Cam Battlemodo, and the all-around leader in this category. We strapped both cameras to the nose of our surfboard, we looked at how the cameras handle motion (both when the camera itself is in motion, and when it's recording moving objects). We shot under an array of outdoor conditions, evaluated audio quality and low-light capabilities. Oh, we also took them to NASA for a zero gravity test.