You can't just do something dangerous and insane these days without filming it for posterity. And while action cameras let us relieve these life-highlights over and over, they aren't all created equal. We decided to see for ourselves which one could handle your extreme adventures best.
Testing Methodology
We tested a whopping six action cameras at once. So, in addition to spending time with each camera individually (usually using a head-strap mount), I built an ugly but effective rig for shooting with all six at once. I got a solid piece of 3.5-inch by 0.5-inch wood and attached each camera to it using its own flat-surface mount. I then attached the board to an old bike helmet using velcro straps, and actually got it tight enough that there was virtually no wobble.
I packed the helmet full of bubble-wrap, taped the padding in, then used nylon tie-downs to attach the rig to the nose of a nine-foot surfboard. Directly after surfing, I strapped the camera to my head and went for a trail ride in the Santa Monica Mountains. And yes, I looked like a six-point buck of geeky stupidity.
In our evaluations we weighted image quality most heavily, but we also factored in versatility, ease-of-use, form-factor, battery-life, apps, available mounts, as well as extras and price. The raw video footage was evaluated on a professionally calibrated monitor, as well as on a 46-inch 1080p Samsung LED TV, and several laptops. Bear in mind when you watch the above video that there is some quality lost to compression for internet streaming.
All of the daytime clips were shot in the cameras' widest field of view option in 1080p at 60 frames per second (except for the Garmin Virb, which only goes as high as 30FPS), and night clips were taken at 1080p/30fps. For the surf test, cameras that required a waterproof housing were in one, and for all other tests the cameras were fully exposed, without cases. For the battery rundown test, all cameras shot at 1080p/30fps with all bells/whistles (Wi-Fi, Bluetooth, GPS, screen, etc) turned off.
G/O Media may get a commission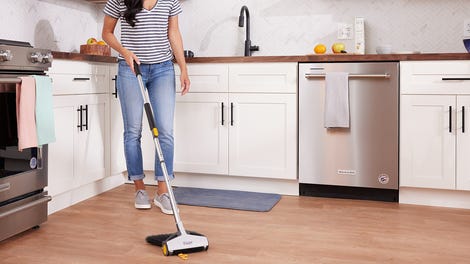 BOGO 50% Off
Flippr - BOGO 50% Off
NOTE: We installed a firmware update for the Garmin Virb right before we went out to shoot the video above. We didn't realize that the update changed the field of view to narrow. So we reshot with just it and the Hero 3+ Black. Here's that video, too:
It's worth noting that while there are six cameras and we had to rank them one through six, none of these objectively suck. If someone gifts you any of one these, or you need to pull the trigger based on price alone, you're going to end up with a decent rig no matter what.
6th Place: Ion Air Pro 3
We had high hopes for the Ion Air Pro 3. Everybody loves a scrappy underdog, and this one had all of the specs of the big boys at a competitive price: 1080p shooting at 60 frames per second, 12MP stills, Wi-Fi for pairing with a smart phone, and even a new, custom-built lens. Its battery lasted a respectable two hours and 10 minutes in our rundown test, good enough for fourth place. It's also built like a tank, has a threaded hole for tripod mounting, and a simple one-switch design. Flip it, and you're recording.
Unfortunately, the one thing that could have really set the Ion apart from the pack is also where it stumbled. The Ion Air Pro 3 is supposed to be fully waterproof to an impressive 49 feet without the use of any additional cases. The problem is, it wasn't. You'll notice in the video above that it looks fine in the surfing shots. It's not as sharp as most of the others, but it's not far off by any means. But then look at all the biking shots that immediately follow. We didn't notice while we were shooting (roughly an hour after surfing), but clearly some water had gotten in and was fogging up the lens. Considering that I was only paddling around for about 15 minutes in very weak surf, this doesn't give us confidence that it would make it to anywhere near 49 feet, though it's possible we just had a defective unit.
Ion is still using its modular "Podz" system in the back for things like Wi-Fi connectivity, which is a fine idea, but the implementation is shoddy. At one point the rear cover become completely stuck on the device and we couldn't open it up to charge it or rescue the SD card. Also, you have to use the app from your phone or computer to adjust settings or know how much space you have left on your card. It's more trouble than most people will take. The image quality looked pretty good in bright daylight (before the camera leaked), but the low-light shots are a noisy mess, and the audio is pretty lousy as well. Definitely not what we'd hoped for. [Ion]
Ion Air Pro 3 Specs
• Field of View: up to 160°
• Storage: microSD
• Frame Rates: 1080p @ 30 and 60 fps; 720p @ 30, 60, and 120 fps
• Dimensions: 1.46 x 4.2 inches
• Weight (w/ battery): 5.01 ounces
• Battery: 1200 mAh Li-Po
• Price: $350




5th Place: Drift Ghost-S
Drift has made great strides in image quality. Like the Ion above, colors are very neutral, but the Ghost-S is sharper in most cases. It's been ramped up to support 1080p/60fps and 720p/120fps with its 12MP CMOS sensor, and the lens can rotate up to 300 degrees, so you can keep your shot straight regardless of the weird angle at which you've been forced to mount it. It comes with a handy two-way remote control that can be strapped to your wrist for easy starting and stopping, there's a two-inch TFT color screen and four physical buttons for easy menu navigation. Once again, the Drift absolutely crushed everybody in the battery rundown test, coming in at a whopping 3 hours and 14 minutes. It's also waterproof to 9 feet as is.
It's not all good news, though. Drift somehow still hasn't fixed its audio problems. It and the Ion easily had the worst sound of the group. While image quality is decidedly better than previous Drift models, the Ghost-S is still noticeably muddier than our top finishers. There just isn't as much detail. Also, like the Ion, low-light shooting is truly terrible. It seems to be ramping up the ISO like crazy, but everything is so noisy and distorted it doesn't really matter that it's brighter.
It's also just clunky to operate. Aside from being the biggest and heaviest (not fun to wear on your head) camera we tested there are a lot of little annoying details. For example, the record button is tiny and looks just like the other three buttons, making it difficult to find, and the rear panel is actually really hard to open.
All that said, if you're going to be shooting long, and only in bright daylight, and audio either isn't important or you're willing to use an external mic (there is a jack), this is still worth considering. It has a ton of options (including video tagging, and using the Drift as a looping dash-cam), and maybe it's just what you're looking for. [Drift]
Drift Ghost-S Specs
• Field of View: 170°, 127° or 90°
• Storage: microSD
• Frame Rates: 1080p @ 25, 30, 50, 60 fps; 960p @ 25, 30, 48, 50, 60 fps; 720p @ 25, 30, 50, 60, 100, 120 fps; WVGA @ 25, 30, 50, 60, 100, 120, 200, 240 fps
• Dimensions: 4.1 x 2.05 x 1.3 inches
• Weight (w/ battery): 6.40 ounces
• Battery: 1700mAh li-ion
• Price: $400



4th Place: Garmin VIRB Elite
For a company known for GPS watches and such, Garmin's VIRB Elite pleasantly surprised us, especially considering that this is the only camera in the bunch that tops out at 1080p/30fps. So, what's the secret sauce? Sharpness. Its video is the least compressed, and its detail is very nearly the best. Not only that, take a look at the low-light test and you'll see that it's the best in the pack, with the brightest image yet the least amount of noise.
That said, the Virb's colors tends to skew pretty warm, which can give it a more cinematic look in some situations, but in others, it just looks orange and weird.
I'm not sure the Virb's shape can be put into English words, but I can say that while it's the second largest (next to the Drift), and it's the heaviest of the group, it's actually fairly sleek and aerodynamic. Still, 7.16 ounces is a lot of weight to strap to your head, and you can't mount it to anything without its little cradle.
Once you do get it mounted, though, it's easy enough to use. The Virb has has one big switch so it's easy to tell when you're recording or not, but it also has a 1.4-inch reflective (as in it doesn't emit its own light) chroma display for framing shots and reviewing footage, and four buttons for navigating its many settings. Speaking of, the Virb is the king of bells and whistles.
Not only does the Virb have Wi-Fi, but it also has GPS, an accelerometer, a barometric altimeter, and an ANT+ radio which lets you pair the camera to external heart rate, cadence, and temperature sensors. When you use Garmin's free editing software, you can easily pop an overlay onto your video that shows your speed, heart rate, altitude, cadence, and even progress on a map as your bombing down a hill. It sounds like a gimmick, but it's actually awesome. There are a ton of different style gauges you can choose from, too, and the Virb can also pair with a Garmin watch (such as the Fenix, Fenix 2, or the Forerunner 220/620), so you can use your watch as a remote control. Pretty slick.
Unfortunately, you have to take some of those stats with a grain of salt. It told me I was at 130 feet above sea-level when I was literally up to my waist in the Pacific Ocean, and as far as I can tell, there doesn't seem to be any way to calibrate it.The downside? Audio quality is really bad. Garmin claims the battery will go for more than three hours while recording 1080p, but we only got it to 2 hours and 3 minutes, which was the second-worst time in this group. Maxing out at 1080p/30 means you just can't shoot any of that buttery, full-frame slow motion, which will be a deal-breaker for many. In fact, we would have knocked it back to forth place, but its image quality really was that much better than the Drift's. Depending how you weight things, the Sony may make more sense for you. As is, it's only waterproof to one meter for up to a half hour (splash-proof, basically), so if you want to get it really wet you'll have to shell out another $40 for the dive case, which will make it even bigger.
This thing ain't cheap, but for more hardcore outdoor athletes, it's definitely worth considering, despite its shortcomings.[Garmin]
Garmin Virb Elite Specs
• Field of View: 146, 130, 118 degrees (with digital IS)
• Storage:microSD
• Frame Rates:1080p @ 30 fps; 720p @ 30, 60fps; WVGA @ 120fps
• Dimensions:1.26 x 2.09 x 4.37 inches
• Weight (w/ battery):7.16 ounces
•
Battery:2000 mAh li-ion
• Price:$400


3rd Place: Sony Action Cam 2 (HDR-AS30V)
The Sony Action Cam 2 is extremely similar to Sony's previous Action Cam. It retains the same extended oval shape as last year's, which means you have to put it in a case of some kind because it still can't stand up on its own (still annoying). It's similar to the GoPro in that is has a very basic LCD screen and a pair of buttons you use for navigating the fairly exhaustive menu, which can be frustrating. It is however, small and light, and you'll barely notice it when it's strapped to your head.
The Action Cam 2 shoots video at up to 1080p/60fps and 720p/120fps, like the best of the group, and it has a very wide 170-degree field of view. It also has Wi-Fi (for apps), NFC (for supposedly easy pairing with an Android phone, though that never quite seems to work), and even GPS for pinpointing your runs and viewing the telemetry data.
Perhaps most significantly, though, the Action Cam 2 has by far the best audio quality of the bunch. Even when it's in its waterproof housing, the sound is way more immersive than the competition. Low-light footage good enough, but not front of the pack. It managed to finish second in our battery rundown test, coming in at an impressive 2 hours and 27 minutes of recording.
Unfortunately, the camera's image quality hasn't really advanced since last year, while it feels like others in the pack have progressed. In bright daylight even the Drift is ever so slightly sharper than the Sony, and it's definitely well behind the Garmin and the top two. While last year's bulky waterproof housing has been slimmed down considerably, its successor is only waterproof to 16 feet! Considering some of our cameras can do that without a housing, and considering last year's model was waterproof to 197 feet, that's a major step backwards.
Interestingly enough, Sony already announced another Action Cam (the AS100V) just a couple months after this one, and it, too is remarkably similar previous models. The only notable differences are that it's "splash proof" and it has a remote control.
The only reason the Sony Action Cam earned 3rd place over the Garmin is the audio is just so good (plus a more svelte form-factor and better battery life). This camera is plenty capable, and it goes for $300, so it's not a bad deal. At the same time, that's 30 bucks more than last year, and while you're gaining GPS you end up losing a whole lot of waterproofiness. [Sony]
Sony Action Cam 2 Specs• Field of View: 170°, 120° (with digital IS)
• Storage: microSD
• Frame Rates: 1080p @ 30, 60 fps; 720p @ 30, 60, 120fps; VGA @ 30fps
• Dimensions: 3.23 x 0.96 x 1.85 inches
• Weight (w/ battery): 3.05 ounces
• Battery: 1240mAh li-ion
• Price: $270






2nd Place: JVC Adixxion GC-XA2
Another unfamiliar face near the top. Despite having a tragically misspelled name, the JVC Adixxion (GC-XA2) is a little nugget of awesome. While it doesn't flat-out win in any one category, it comes in second or third in almost all of them. It has an impressive amount of detail, colors are generally well-balanced, and it comes in third place in both low-light and audio-quality. Basically, it produces footage that looks and sounds really good. It has a 8MP back-illuminated CMOS, and it can shoot at 1080p/60fps and 720p/120fps no problem with a 160-degree field of view. It also managed 2 hours and 12 minutes in the battery rundown test, putting it in third.
The hardware is equally impressive. It's not much bigger than the GoPro or the Sony, but as-is, it's waterproof to 16.4 feet (which is more than enough for most watery activities), drop-proof to 6.5 feet, dustproof, and freezeproof to 14 degrees F. It also has a 1.5-inch color screen for framing your shots and playing back video. There are dedicated record and power buttons, plus an additional four buttons for navigating the menus. As a result, despite having tons of options (everything down to white balance) it's the most intuitive to use and adjust of any of the cameras (though the menu buttons can be tough to press).
It's also the only camera of the group that uses a full-sized SD card, which is a plus since they're often easier to find than microSD. It also has a two-hole tripod mounting setup (for real video tripods) on both the side and the bottom, which opens up a lot of mounting options. It's got built-in Wi-Fi as well, not just for smartphone apps, but also for streaming video directly to Ustream and uploading content directly to YouTube.
That said, it's certainly not perfect. The Adixxion struggles with dynamic range, and has a tendency to blow out, losing detail in the highlights. It seems to try to lower the contrast to compensate, but that just makes things look washed-out. In low light images look bright, but there's a little too much noise. The audio sounds terrific in the surf test, but check out the bike test and you'll hear that it doesn't handle wind very well. Also, I have concerns about the build quality of the rear door. Its latch is a bit sticky, and it feels like cheap plastic that's just waiting to break. I guess time will tell on that one.
Overall, though, this is a very solid camera with tons of options and excellent ease-of-use, all in a small little package. It has a nice array of mounting options, as well, though the mounts tend to not be as rugged as some others. They're often tall, which can introduce some wobbling or accidental tilting if bumped. Still, coming in at $300, it's a really solid value. [JVC]
JVC Adixxion GC-XA2 Specs
• Field of View: 160° (with digital IS)
• Storage: SD (full-sized)
• Frame Rates: 1080p @ 30, 60 fps; 720p @ 30, 60, 120fps; WVGA @ 30fps
• Dimensions: 2.94 x 2.13 x 1.44 inches
• Weight (w/ battery): 4.76 ounces
• Battery: 1050 mAh li-ion
• Price: $300



BESTMODO: GoPro Hero 3+ Black
Surprise, surprise. Truth be told, part of us was hoping someone would unseat the king, since the Hero 3+ Black was a pretty small upgrade from the Hero 3 Black. Not this year, though. Simply put: GoPro still makes the overall best action camera. It's the obvious winner in terms of image quality. It has the best detail, solid color performance, and really excellent dynamic range. Everything looks clean, clear, and sharp, with just enough pop in the colors. It's also terrific in low-light (just behind the Garmin) and the much-improved microphone places it second in audio-quality to the Sony.
In terms of shooting options, GoPro wins in a landslide. Yes, it shoots 4K (but only at 15 frames per second, which pretty much makes it just a spec sheet talking point), but shooting 2.7K at 30fps is actually extremely useful, as it gives you a ton of space to crop or use stabilization software. The new SuperView mode (which we explain fully in this article) is fantastic for board-sports or anything where you're shooting back at yourself. There are also an absurd number of mounts (and third-party rigs, and quad-copter drones, etc.) available for the GoPro line, and the camera itself is so light and tiny you'll barely even notice it's there when you're wearing it. You've also got the option of shooting in Protune (a raw video format), which will allow you to do some serious post-production tweaking if you have the time and skills. Or just leave it on auto and it'll still turn out great. It also includes a Wi-Fi remote control which has a screen that mimics the display on the GoPro you're controlling. It works very well, but we wish it had an easy way to attach it to your wrist, like Drift's remote.
Glowing praise aside, it's still a long way from perfect. For starters, while it made a big improvement over last year, the Hero 3+ Black still came in dead last in the battery rundown test. 1 hour and 55 minutes isn't "bad," but it isn't as good as the rest of the pack. Then there's the question of the new case. Just like Sony trimmed down its case, GoPro has done the same, though the loss—down to 131 feet from 197 feet for last year's model—isn't as extreme in this case. More trouble is that the new case just isn't quite as burly as the old one. You have to be much more careful with the seal or a little bit of moisture can get in. I haven't had any catastrophic failures, but then I haven't SCUBA-dived with it either. There are other gripes, too, like the menu still being a huge pain to navigate if you aren't using the smartphone app. There's also still no tripod screw on the camera itself.
That said, the buttons are much easier to press than they were on previous models. Also, the focal point has been brought in nearer on the 3+. This means that objects closer to the camera (i.e. you) will be much sharper, but objects in the distance may have slightly less detail. I definitely prefer it this way, but it's a matter of personal preference and what you use it for.
But ultimately, if you want the action camera that shoots the best footage, then you want the GoPro Hero 3+ Black edition. It gives you so many ways to get the best-looking footage, and there's a reason this is the camera the most of the pros use. It's not just good marketing. It's a great camera. [GoPro]
GoPro Hero 3+ Black Edition Specs
• Field of View: 170°, 127°, or 90°
• Storage: up to 64 GB microSD
• Frame Rates: 4K (16:9 and 17:9) @ 12, 12.5, 15fps; 2.7K (16:9 and 17:9) @ 30, 25, 24fps; 1440p (4:3) @ 48, 30, 25, 24fps; 1080p (16:9) @ 60, 50, 48, 25, 24fps; 960p (16:9) @ 100, 48fps; 720p (16:9) @ 120, 100, 60, 50fps; WVGA (16:9) @ 240fps, plus Protune and SuperView modes
• Dimensions: 2.30 x 1.55 x 0.08 inches
• Weight (w/ battery): 2.65 ounces
• Battery: 1180mAh li-ion
• Price: $400




---
(A ton of) Additional reporting by Michael Hession. Video edit by Michael Hession.