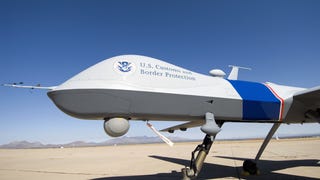 For nearly a decade now, 10 Predator B drones have been zipping around our nations's borders at $12,000 an hour under the pretense of securing our borders. Except that, according to a scathing report released earlier today by Homeland Security, not only do these drones cost five times as much as advertised, but…
U.S. Border Patrol will begin wearing cameras in training, according to the AP. The move comes as the border patrol has come under fire for killings by agents. This is just the latest sign that movement to strap cameras to law enforcement is picking up steam.
Generally speaking, domestic drone surveillance is a big no-no. Nevertheless local, state, and federal law enforcement agencies are finding a way to do it by borrowing drones from U.S. Customs and Border Protection. And, according to a recent FOIA request, it's happening more and more.
While everyone is freaking out about Amazon's plan to unleash an army of delivery drones on the world, it's important to remember that these flying robots can do much more than just move packages.
You know the recently deployed airport scanners that see through your clothes and show your bits 'n' pieces to some dude supposedly in a locked closet? Called backscatter, the tech been re-jiggered into a portal that cars crossing the border will have to drive through, allowing border agents to search your car…