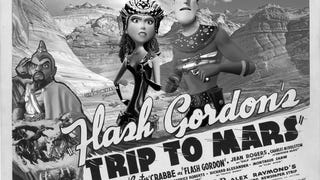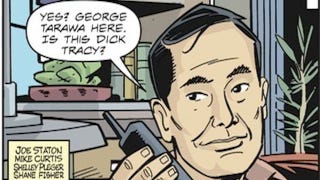 The beloved Star Trek star and gay rights activist is currently starring in the Dick Tracy comic strip as George Tawara. Now, before you ask how could Takei star in a newspaper comic strip under a different name: 1) check out the art above (that's as close as Dick Tracy gets to photorealism); 2) this comic storyline…
The Comics
Arguably, Burton's movie didn't influence the comics directly as much as give them even more reason to pursue the dark, Frank Miller route they were already taking (Although 1992's "Destroyer" storyline recreated Gotham City using Anton Furst's production designs for the architecture of the movie, probably…
Even before Tim Burton took the director's chair of Batman in 1986, the movie seemed troubled, if not just outright unlikely to ever happen. A Batman movie had been in development since 1980, following the success of Richard Donner's Superman The Movie and Superman II, with various writers - including comic writer…
Click to viewBeing evil is supposed to make you smarter, but it doesn't always work out that way. In science fiction, evil twins are often more idiotic than their good counterparts. Just check out our list!
Sadly, watch phones still aren't cool, but Dick Tracy called the weekend news desk and approved the heck out of these his and her models from Chinavision. Sporting dual SIM cards, these black and pink pieces of geek arm candy do video and music, take pictures, and feature a touchscreen (complete with mini stylus).…
We have a serious love affair with the cool gadgets of science fiction, but every now and then one will come along that will make you scratch your head and say "What!?" Yes, even in the world of scifi, you can sometimes go a bit too far. Check out our list of beyond-the-pale gadgets.
Here come the cellphone watches, with this $499 Dick Tracy-esque model from SMS Technology Australia being the second one we've seen this month. Called by its maker "the world's smallest wrist phone," My MobileWatch has an internal antenna, voice dialing and hooks up to Bluetooth, so imagine yourself wearing a tiny…