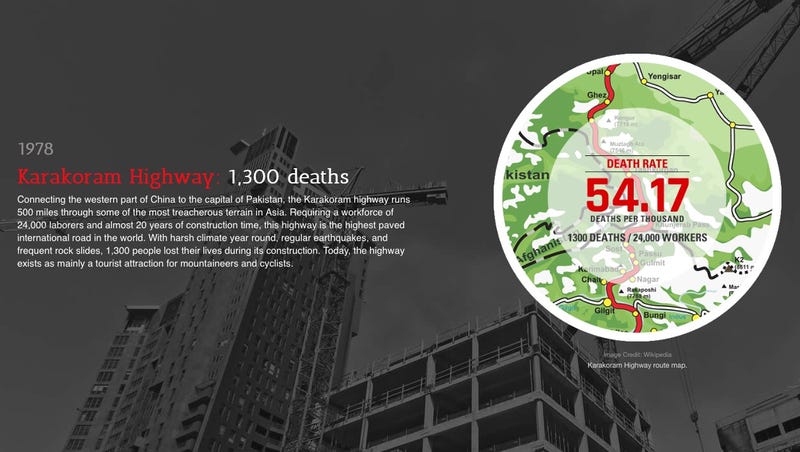 The infrastructure being built for Qatar's World Cup is using the most cutting-edge construction technologies. Yet due to the poor treatment of migrant workers, an estimated 4,000 people could die building it. A new timeline of construction deaths shows this inconsistency throughout history: Even though construction…
Samsung might be making waves at Mobile World Congress with the new Galaxy S6, but that's nothing compared to the waves that will be produced by what the company's Heavy Industries division is working on. It recently announced that it will be building the world's largest container ship, over 1,300-feet long, for…
The new Panama Canal lock gates are now being installed and holy crap they are gigantic to the point of disbelief. Egyptian pyramids-level huge. Imperial Star Destroyer-level massive. Look at those tiny people and the size of those concrete canyons. The 3,285-ton 9-story-high gate is 33 feet (10 meters) wide.
The Panama Canal opened 100 years ago this month, one of the greatest engineering achievements in history. It was also one of the greatest sacrifices of human life in the name of construction, but tragically, it was far from the most deadly project in modern history.
One hundred years ago today, the SS Ancon became the first ship to officially pass through the Panama Canal. Because of the outbreak of World War I, there wasn't a big party for the grand opening. The waterway would go on change the history of transportation, and now it's time to change the canal itself.
By linking the Pacific and Atlantic oceans, the Panama Canal revolutionized global shipping when it opened nearly a century ago. However, the canal's capabilities are quickly being outpaced by the ever-growing ships that pass through it. In order to accommodate the next generation of over-sized vessels, the Panama…
The Panama Canal, a human-created waterway between the Pacific and Atlantic Oceans, is the last century's greatest work of geoengineering. And it continues to evolve. Just a few months ago, workers began setting off explosives like those you see here to widen the canal and allow oil supertankers to get through. Want…