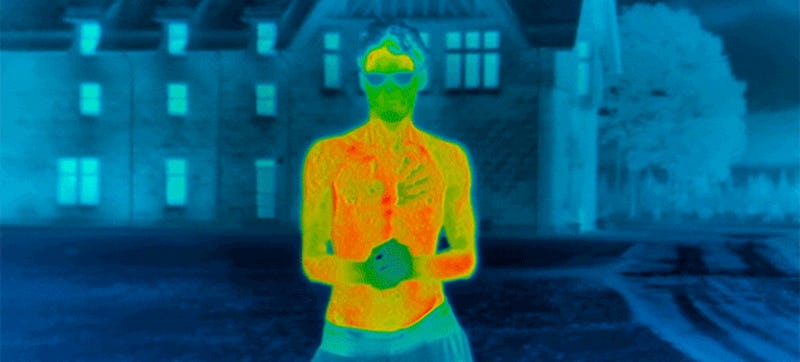 Here is footage taken using the military spec Selex Merlin thermal imaging camera of a shirtless man in the Scottish highlands during winter. The point is to show how fast humans lose the heat on their body when their bare skin is exposed to the bitter blistering cold. When he first takes off his clothes, you can see…
The Flir One thermal imaging camera is awesome fun, but when you put the technology on a drone, it also becomes quite useful. That's why the company is now targeting anyone from farmers to firefighters with a new camera, the Flir Vue Pro that's specifically designed for the GoPro mounts on drones.
Researchers have developed a technique for recognizing faces using their thermal signature, opening the door for facial recognition even in the dark. Now computers can tell who you are, even at night.
What if your dining room table could show you when your coffee or cocoa is too hot to drink? That could be a reality today: hacker Ken Kawamoto shows us how with a technique called thermal projection mapping.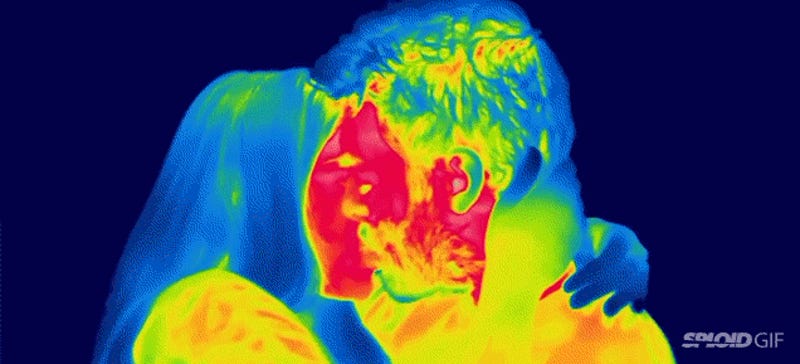 BuzzFeed recorded normal, everyday things people do with a thermal imaging camera to see what our bodies' temperature looks like when we're, well, doing normal, everyday things. Spoiler: it makes a lot of things look really gross, especially exercise which looks like a damn disease.
Back in January we stumbled across one of the most exciting iPhone accessories we've seen in years. FLIR took the thermal imaging technology it sells to law enforcement and the military and squeezed it down into a compact iPhone 5/5S case called the FLIR ONE that will finally be available for pre-order starting…
Earlier in the year, FLIR got us all hot and bothered by revealing a thermal vision smartphone case that could actually see our excitement. Unfortunately it's only for iPhone users, and won't be available until the early summer. But Android fans will have the last laugh with their own thermal imaging add-on—the …
When you're digging for CES gold, you can usually ignore about 99.99 percent of the iPhone accessories announced at the show. But in that last 0.01 percent is where you can find some real treasures. This year FLIR has managed to shrink the same thermal imaging technology it sells to law enforcement and the military so…
Earlier today we talked about the Living Building Challenge, a certification system that rates the sustainability of a building over the course of a year. Here's a follow-up about 23 Park Place, a Park Slope townhouse designed by Fabrica718 that's probably the most energy efficient home in the city, thanks to its …
A spy drone with an infrared night vision system captured this perfect moment when a solider without night vision gear discovered why it's such a useful piece of tech. You know, for spotting otherwise-invisible lurking bad guys in the dark ... and huge puddles right in your path. Brilliant. Thanks to whoever…