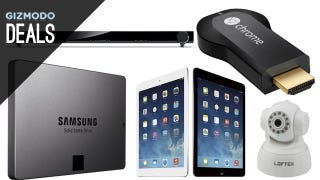 By now, you should know that the Samsung 840 EVO is one of the best SSDs you can buy, and the 250GB model is only $119 today, and the 500GB model is down to $200, both the lowest prices Amazon has ever offered.
Samsung 840 EVO 250GB SSD, $119
Samsung 840 EVO 500GB SSD, $200
---
Get these deals and more, and earlier on Deals.Kinja. Connect with us on Twitter and Facebook to never miss a deal, check out our Gaming and Movie/TV release calendars to plan your upcoming free time, and join us for Kinja Co-Op to vote on the best products. Got a deal we missed? Post it in the comments with a link and we'll share right to our Deals homepage.
---
Admittedly, this deal isn't for everyone, but 10TB of storage at only $32/TB is insane enough to post anyway. The deal comes in the form of a pair of 5TB drives, so maybe you could split the cost with a friend. [2x Seagate Expansion 5TB External Drives, $320]
---
The iPad Air is getting to the point in its life where we start to see some significant discounts, and this one from Best Buy is one of the best so far. Both the 16 and 32GB models are $75 off today, but if you have access to a .edu email address, you can get an additional $50 discount. [iPad Air 16GB/32GB, Additional $50 off with a .edu email address]