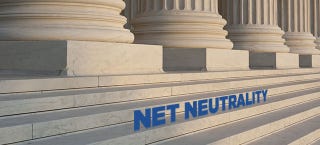 Tim Wu, the guy who coined the phrase "net neutrality," went nose-to-nose with the House Judiciary subcommittee on Friday morning to fight for the future of the internet. Congress wants to know if somebody other than the FCC should decide the fate of net neutrality. Wu, for one, thinks that's a pretty silly idea.
On one hand, the FCC's been regulating—or, maybe more importantly, not regulating—the internet for decades. Then again, the FCC has also been doing some floating its own set of silly ideas in the form of proposed rules that would allow fast lanes on the internet. Maybe it's time the pass the baton.
The Federal Trade Commission (FTC), for one, tends to do a good job protecting American consumers. Maybe they're up to the task. Meanwhile, Congress certainly thinks it knows how the internet should work, so maybe they should take a swing. Barack Obama arguably has the internet to thank for his ascent to office. How about a more authoritarian approach?
There are a lot of options out there, but for the sake of reality, it makes sense to take a closer look at what the House Judiciary subcommittee discussed at Friday's hearing.
The FCC has a decent track record…
Flanked by a current FTC commissioner and a former FCC commissioner, Wu did not mince his words, when speaking to Congress. "At stake in the net neutrality debate is the protection of the American political process," he said. "We can't leave a matter that important to the economists."
In other words, the internet's been pretty successful under the FCC's watch, so it doesn't make sense to pass it off to a new agency like the FTC. There's plenty to criticize about exactly how the FCC's been guarding the free and open internet (especially lately) but Wu's point is rock solid. Antitrust law—the FTC's specialty—is written with business interests in mind and only business interests. However, in regulation communication networks, the FCC has to take a wide range of factors into consideration, including but not limited to free speech, social progress, and media policy. And it has decades of experience doing just that.