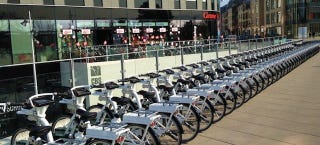 This week, Madrid became the first European city to launch a fully electric bike share system for its residents. It works just like a regular bike share, but better: An electric motor kicks in to help with pedaling, and most importantly, give you an extra push up hills. Why isn't this standard for bike shares everywhere?
Madrid's BiciMAD is making a brave jump ahead of other cities. While human-powered bike shares are becoming commonplace, only a handful of cities have been wading into the electric fray. Copenhagen tried out an e-bike pilot program last year, and Barcelona offers electric scooter sharing, but Madrid's is the first to offer e-bikes as the system-wide standard. It's a smart idea. And it's the only way that bike share is going to end up actually getting people out of their cars.
A kiosk for Madrid's BiciMAD e-bike sharing system
As awesome as bike shares are, you can already see the shortcomings with conventional bikes. Namely, cities aren't flat. In Barcelona, for example, the city has so many big hills that the bikes accumulate in low-lying areas and need to be shuffled around by trucks at night to help redistribute them to higher ground. While it's not unusual for any city to have to move bikes to less popular stations, I could imagine that firing up a bunch of vehicles to move bikes kind of defeats the whole cleaner-air/healthy-city intentions of launching a bike share in the first place. E-bikes could easily fix that.
An electric assist also allows more people to travel farther on a bike, allowing bike sharing to reach a wider geographic audience (one of the complaints of systems like Citi Bike) and helping to bring new neighborhoods into the bike share network. It turns bike share into a regional system, instead of one limited to a downtown area.
The launch of Copenhagen's e-bike pilot program last year
The technology for e-bikes is also advancing in a way that will make it cheaper and easier to wrap into a bike share bike. There are plenty of manufacturers making bike share-ready bikes, and even clever accessories that can convert them—we've covered the ShareRoller, a completely-not-authorized-by-Citi Bike attachment that turns any Citi Bike into an electric bike. And there's also different tech features that could be incorporated on an e-bike, like the one on the e-assist Copenhagen Wheel, which uses its electric capabilities for data collection. This means the system could track the location of any bike at any time and collect information about usage to help make the system better.