Horses are the one inescapable fact of Lexington, Kentucky—home to BreyerFest, the model horse Comic-Con, an annual convention for one of the last hobbies nearly untouched by culture at large.
There's a horse silhouette or some equine reference on almost every Lexington storefront and street sign. An impulse buy rack in the Bluegrass Airport's gift shop hawks PooPoo Paper novelty stationery. So revered is the horse in this city, actual horse shit sells for $7.99.
Breyers figurines are made from a far less conspicuous material, and some of the rarest models fetch thousands. When you think of a toy plastic horse, it's probably a Breyers model—it's the biggest producer, and nearly every other model horse manufacturer has since gone belly up. Acquisition of rare items and arcane knowledge—and a surrounding community to ascribe value to them—puts the model horse enthusiasts in the familiar territory of model train, maquette, trading card, and comic book collectors. The unnervingly wholesome, majority-female draw makes the model horse hobby unique among subcultures.
The lion's share of Breyerfest's attendees are "horse girls"—specifically white, adolescent girls from Middle America, often accompanied by their mothers and grandmothers, many of whom are collectors themselves. The occasional dads retreat to empty arenas and concessions stands. Braces and floral dresses. Fanny packs. Khaki shorts. Umbrellas and mobility scooters.
By 9am on Friday, July 22th, there's a quarter-mile-long line of people curving outside the Kentucky Horse Park, baking in 90-degree heat. The license plates of their vans and trucks are from every state in the continental US. "Breyerfest or bust—Nebraska to Kentucky" is painted across the back windows of a white Chevy Tahoe. A few attendees have flown in from the UK and Australia. Total attendance is over 10,000—the largest yet.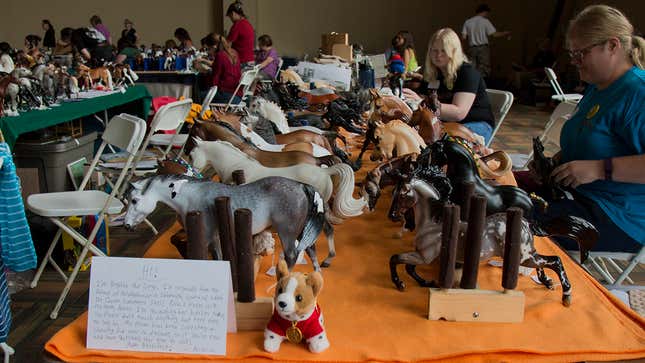 The Kentucky Horse Park is a sprawling 1,224 acres dedicated to "man's relationship with the horse." The park boasts ample equestrian facilities, breed association headquarters, and several small museums, many of which celebrate the halcyon days of the South through horses, while conveniently ignoring a history of racial oppression. There's also a visitor's center with an endlessly-looping short film titled Rein of Nobility narrated by William Shatner. (I'm told Shatner owns farmland in nearby Versailles where he raises saddlebreds.)
Since 1990, the Kentucky Horse Park has played host to the Breyerfest convention. It's a perfect alignment of interests, timed to overlap with school summer vacation. For casual horse fanciers, it's a cheap family vacation featuring close to 200 of the flesh and blood beasts. But the die-hards who've been making the pilgrimage for decades are here for the plastic figurines. Some guests have been camped out since at least Wednesday morning, vying to be the first to get their hands on limited edition models only available during the festival.
I stuck out like a sore thumb among the tight-knit community. On day one I was repeatedly asked if an attendant girlfriend had "dragged me along." By day three it was mostly "you must be that journalist." It was clear my presence was treated with suspicion by attendees and volunteer staff alike—and that's understandable. Most subcultures feel protective of what they've built.
"This is the biggest closet hobby you'll ever find," Jane Wagner, 62, a retired engineer and veteran of the collecting and competition circuit tells me. "A lot of professionals here… don't share the fact that this is their hobby with people outside that circle."
---
The first thing to understand about model horse collecting is that it's old. Porcelain models were among the first to hit the market in 1930s England, but Breyer is largely credited with popularizing horse figurines in the States by making them out of less breakable, more kid-friendly plastic, starting in 1950.

For at least a decade that's all they were—toys—and for many today, compulsive acquisition is an end to itself, with some collections numbering in the thousands. But starting in the 1960s, a sort of sui generis sport would emerge.
These are the "live shows." There are no live horses. And they aren't really shows, in that they draw no audience beyond the competitors. But they do get deeply competitive.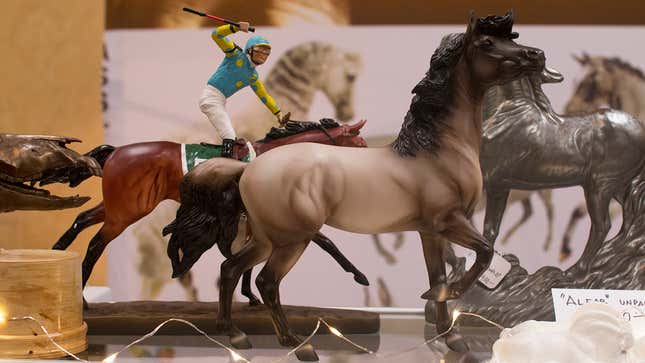 Half a mile removed from Breyerfest's main attractions, in the drab, echoey event hall of the Alltech Arena, is where the serious collectors come to prove themselves. Plastic folding tables with carefully placed models fill the floor; underneath, Rubbermaid storage tubs filled with blankets, laptop sleeves, bubble wrap, gauze, and other protective covers hold figurines not immediately needed. Eighteen numbered "rings" with color-coded plastic covers occupy the center of the floor, each composed of three tables arranged in a C shape. A raised stage in back seats judges, barely visible behind stacks of boxed prize models, and flanked by foam boards announcing the current categories. There's a constant hum of activity—packing and unpacking, repairing last minute scuffs and rubs with makeup brushes, announcers blaring out nearly incomprehensible jargon—and at the same time nothing in particular seems to be happening.

Even among the equine-entrenched attendees of Breyerfest, the existence and purpose of "live shows" did not appear widely understood. ("How do you judge that?" I overhear one woman say.)
The order of operations is roughly this: women periodically stand up, drop immaculately maintained plastic horses onto one of several "rings," officiants scratch notes on clipboards, winners and runners-up with names like "Bread and Butter" and "On a Mission" are announced, models are retrieved, and the whole thing begins anew.

Like many competitions, the live show categories are detailed in a "class list." Breyerfest's is exhaustive. Over the course of the festival, judges will officiate nearly 1,000 classes, from "Clydesdale/Shire" (Regular Run Original Finish Division) to "Showmanship" (Miscellaneous Performance Section).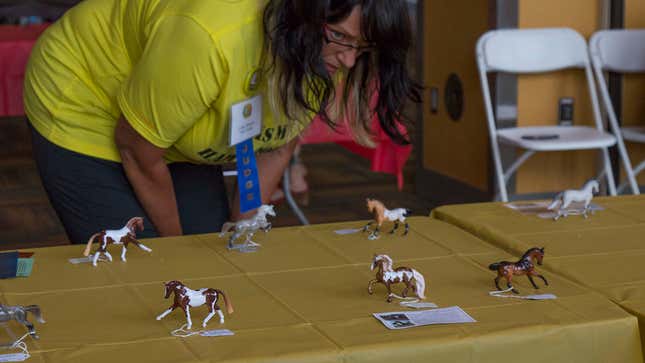 It's not uncommon for multiples of the same model to be entered into the same class, with minuscule differences in the paint job or condition breaking the tie. (Maintenance is difficult: Air inside the hollow models can contract or expand due to temperature changes, and paint can fade through wear or exposure to sunlight.) Nearly every permutation of breed, size, finish, and rarity is judged at Breyerfest, from inch-high models repainted by master artists, to full-sized "traditional" models preserved for decades. Then there are the unrealistic fantasy-inspired models and the "performance" categories, featuring models positioned around hand-made miniature dioramas with tiny riders and crops.

"Breed conformity" is among the most important elements for a judge. Unlike other class qualifications, there's no canonical breed interpretation built into a model. A Breyer sold as a German Warmblood or Appaloosa Stallion might be entered into a completely different class by a skilled competitor, with serious research into horse breeding, coloration, and genetics to back up that assessment.
Competing requires a sizable collection, but competing well requires a staggering knowledge of both model and real horses. To outsiders, the finer points of competing border on impenetrable.
---
Judge's assistant Andy Faraci is checking entries with a newborn strapped to his back at Saturday's youth show. He doesn't collect and only became aware of the hobby after he and his wife moved in together—even so, he's been volunteering at Breyerfest for five years. Winning a youth show, he tells me, doesn't qualify kids to compete in the North American Nationals, the biennial live show hosted by model horse showing's governing body, the North American Model Horse Shows Association, with the aim to keep things "competitive but not bloodthirsty."
And shows for adults can get bloodthirsty: models get slipped into multiple categories; "syndicates" share ownership of rare figurines (expressly forbidden at Breyerfest); one woman, I'm told, was banned for several years after enlisting family members to show her collection, inflating the number of models she could show from 50 to 150. While cheating happens, those who are discovered are shunned.
"You learn how to do stuff, you make mistakes, somebody helps you fix them," NAMHSA's current president Kim Bjorgo-Thorne tells me, wearing a ridiculous-looking Camelback, the wisdom of which becomes clear in Kentucky's oppressive heat. He describes youth shows as a way to get girls involved in STEM. Kathleen Strunk, the grandmother of one of Saturday's youth competitors and a Chicago-based American Eskimo dog shower, lists the benefits as fostering a sense of "empathy towards animals and people" as well as a way to learn sportsmanship.
More commonly, I'm told that although many in the hobby have ridden or owned horses, involvement is aspirational—a less financially painful way to explore a love of these animals. Keeneland, Lexington's famed sales and racing house—which, according to a friend I'm staying with, is essentially a decadent playground for white-suited men to sip the dregs of antebellum wealth inequality— regularly auctions yearlings for a million or more.
The hobbies are not mutually exclusive, and model horses are sometimes sold to finance real ones, as was the case with several older collectors I spoke to. But the economics are deeply lopsided. "What I would spend in an entire year on this hobby would take about one month in the quarter horse industry," Jackie Hasser tells me.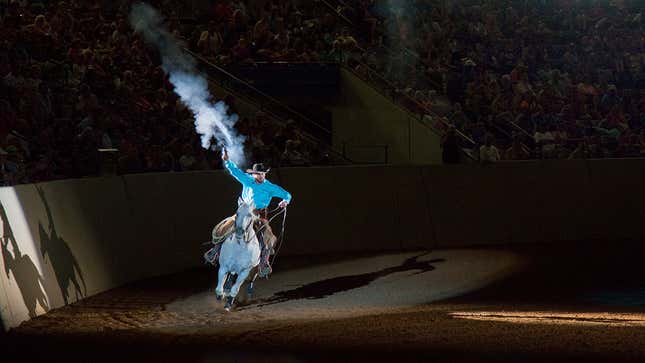 The impression I'm given from the Rockin' R Rhythm Riders, a drill team boarding and performing at the horse park for Breyerfest, is that sports involving live horses, while fun and prestigious, are a money pit. But as Strunk points out, the same can be said of the plastic variety, where rare models have been sold at Breyerfest auctions for as much as $13,000. "Not everyone can do this," she says, "because these things are expensive."

Comic book collectors know they can never be Wolverine. Star Wars fanatics are well aware their obsession exists in the realm of fiction. But horses are grounded in reality, and many of the people who can actually afford to live these dreams do so within a 20 mile radius of Lexington.
---
By 2pm Friday, many of the hopefuls have been treated to Alltech's blank walls and blasting air conditioning for eight hours. Around 4:30pm, those who are no longer competing filter out and go home—or, more likely, drive ten minutes into Lexington to the Clarion Inn, a highway-side hotel bearing the sign "Welcome Breyerfest!" which, according to two different front desk employees, sells out every one of its 297 rooms in under an hour, a full year an advance of the festival.
Every evening during Breyerfest (and a few days preceding), the Clarion's faded halls—choked with buyers in the eye-straining light of failing sconces—are nearly impossible to traverse.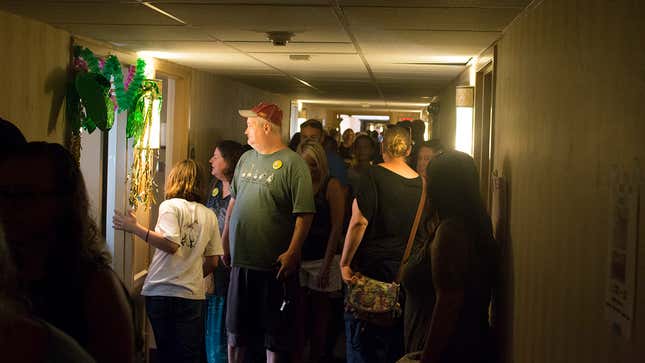 Most rooms of the two story hotel have their doors swung wide open. Model horse dealers selling their personal collections fill the rooms with snap-together shelving to display their stock, making sales and trades well into the night. Rooms with the best collections are easy to recognize by the lines of festival-goers waiting outside. Walls are plastered with fliers and want ads, and many of the women have signs taped to their backs advertising rare models they're willing to part with, along with a phone or room number.

Patty Hunter, whose room I walked into first on Friday night, doesn't have anything too pricey left—most of that was bought the night before. "A lot of these I bought in bulk sales on eBay. I'll buy 40 horses for $70. They've been played with, they have flaws, they're hardly worth anything," she tells me from the comfort of a loveseat while her daughter sits on the bed, scanning for interested customers. "Most of our good inventory went last night and the prices were $75 to $95. Those were the horses that even the small children come in and ask for them by name, by mold."
It's been 14 years since the two Floridians started coming to Breyerfest together, and though her daughter has since graduated college and moved away, they still come back. You can't put a price on bonding, but for sellers, the trip usually pays for itself. "With nickel and dime stuff you can make $600-800 in one evening," Hunter says while her daughter recounts a raffle horse she won for free and sold for $1,800—the equivalent of three month's rent. Two young girls come in trying to buy a pair of models. Hunter only offers $4 off the $50 total because one, a mule, has competitive value and had won earlier at the live show. The girls seem more interested in them as toys and pass on the deal.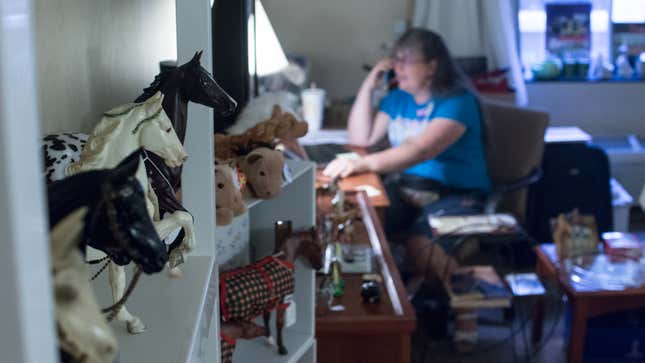 Besides tax returns and Christmas, Breyerfest is the biggest time of year for Breyer sales, I'm told—not the least of which has to do with the limited edition models produced specifically for it. "They'll have a run of 1,600, but they'll only have certain ones in certain colors. So they'll make 200 of one particular color. So that's what people want more of because there's less available," Hunter says, certain that the see-through variant her daughter got is the rarest this year. On Ebay, festival horses still in their opaque green bags are put to auction as "mysteries"—more valuable with the added chance of scarcity than removing all doubt by opening the packaging. "List [a festival model] as soon as it's in your hands, or hold onto it for three years until it becomes hard to get again," Sara Roche, a collectors club member from Connecticut, advises me.

The friend I'm staying with has a similar compulsion to amassing retro video games. Every night in Lexington I've been sleeping surrounded by thousands of cartridges, some in duplicate or triplicate. He tells me the knowledge that the collection will never be complete is not a factor—the hunt, for rarity or a bargain, is a thrill in its own right.
---
Scarcity is, for the most part, where Breyers derive their value. A rare color or limited model is the most obvious way to tweak the market, but because special runs are usually hand-painted, mistakes can be just as valuable—much like misprints in card and coin collecting. Models that win—like Hunter's mule—can also become more valuable, giving competitors a vested interest in performing well at live shows. Vintage models can fetch handsome sums if they're in good condition, and much of the market is propped up by Breyer's own lack of records.
In Breyers Molds and Models 1950-1997, Nancy Atkinson Young wrote, "no systematic Breyer company documentation exists for special-run models," which was true at the book's publication and appears to still be the case. Authentication of rare models is often performed by experts in the community, like Young, according to one collector who asked not to be named. I was unable to contact Young and her publisher has since died, but I was told by Sande Schneider, the woman who bought all of Young's research, that she'd abandoned the hobby over a decade ago. "Too many people approached her with questions for which they felt she should know the answers... Plus staff from her publisher kept hounding her about deadlines when her attention was distracted by family issues," Schneider told me over Facebook message. "Keep in mind that Breyer kept releasing new models so anytime that passed when Nancy wasn't avidly updating her work, meant that her work was becoming outdated. That in itself was/is a vicious circle." Young's research, she claimed, filled 11 shipping cartons and weighed over 300 pounds.

The lucrative nature of in-person trading also points to the hobby's uncertain relationship with technology. Collector forums and Yahoo groups have fallen out of favor. NAMHSA's homepage looks a Geocities relic. Much of the information on Breyer's site is years out of date. If not openly distrusted, eBay is considered by many to be a hassle: shipping prices, ballooning fees, and the ever-present fear of buying a seemingly rare model that turns out to be a fake. Paypal is notorious for malicious (and often young) sellers filing fraudulent disputes that buyers end up getting screwed on. Likewise, Wagner claims that compared to her early days with the hobby, prices have been driven down by easier access through trading and auction sites.
One-to-one online sales and trades often require a good reputation, and tabs are kept on community members in hidden Facebook groups like Model Horse Transaction Board. "There's a lot of trading that goes via email or Facebook, so certainly have to have a reputation for that. There are people that are out there to scam you, like they'll fake gloss a model and try to sell it as a prize model or they'll just take your model and not ever send you anything which is obvious the worst case," Roche said after finishing something fried for lunch, "If someone does turn out to be lousy then everyone will gang up on them." And they do. The sheen of niceness among attendees exists to foster business transactions in a hobby where everyone is equal parts buyer and seller; the cattiness goes on in secret. "I'm not saying you can't dig yourself out of that, but it takes a while," Jackie Hasser, a Clarion seller, says. "When you have 13-year-olds scamming people, that's no fun. And that's why a lot of people are afraid to list things on eBay now because of the younger generation."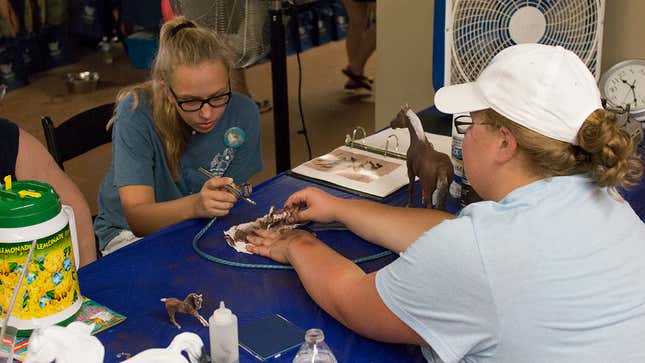 And yet, the younger generation are—however cliche it may be—the future for this decades-old hobby. Few if any of them seem to share either the fear of social media their forebearers express or the public exposure it carries.

Saturday's "YouTube meetup" felt like an afterthought in the festival's agenda, held on a small hill behind an inflatable horse nicknamed Fluffy. Among the maybe 50 teens and preteens—some with their channel names affixed to t-shirts or written in sharpie on their arms—was the desire to share their love of the hobby with the world at large. One, foxglory123, found the hobby not through a parent but through YouTube itself. Her models are the stars of several video series she shoots and edits, using fellow creators on the platform to help dub voices for characters. Vengeance Rain, probably her most popular, is the Game of Thrones of horse fiction, complete with feuding families and a surprising production value—and made somewhat awkward by the fact that Breyers don't have any moving parts.

"It's not something that you should be ashamed of," she said between signing autographs and snapping photos with fans, "and when you do come across people like that, you just remember all these people who are here who would support you anyway."
Earlier in the day I'd overheard two impressed and befuddled fathers hiding out in Alltech discuss how their daughters had discovered each other—and their shared hobby—on Instagram months before Breyerfest.
The fact is, the pasty hobbyshop crowd is dying out in all forms, and the rising tide of social media lifts all boats of specific interest. Fear of being misunderstood is now secondary to fear of being alone in your passions—something cautious veterans seem not to grasp the value of. After all, this is a subculture that largely appeals to, and provides an outlet for young girls, and that outlet in many ways does not reflect the time most of us live in.
---
"You're either a horse person or you're not, there's sort of no on-the-fence," Bjorgo-Thorne tells me in an empty administrative room of the visitor's center, and admittedly I'm feeling very much like latter group. The young adult books that spurred Hasser's interest early on passed me by in favor of The Hobbit and Harry Potter. The overlapping qualities of horses as pet, passion, status symbol, and sporting tool are hard to parse. But two things happen Saturday night that make the whole hobby click for me.
The first is a teaser for a film called Albion: The Enchanted Stallion—screening in the Visitor's Center across from that looping Shatner catastrophe. From what I can glean, a young and downtrodden stablegirl escapes from her life of poverty and abuse on the back of the titular horse to a land of high fantasy. Naturally she helps a ragtag group of do-gooders defeat a wart-covered Barron Harkkonnen-like baddie, played incongruously by John Cleese.

Just as the horse itself has multiple functions, and the model horse hobby has multiple levels and in-roads to involvement, the stallion is a succinct if personally unsexy plot device. Her horse is the lightsaber and Han Solo in Star Wars; the ring as well as Samwise in Lord of the Rings. The call to action and the companion. For young girls with a penchant for the equine, there's no need to separate the two—the parallel is ingrained. And the ones in the audience are utterly enthralled.
The second is the Celebration of Horses, held in the perfectly groomed dirt of Alltech's 5,519-seat arena, which is packed near capacity. Various luminaries of the horse world present their 1,000-pound animals obediently performing all manner of tricks. Bows. Rearing up on two legs. Synchronized runs. Make a horse walk funny and horse people lose their shit. Admittedly, watching massive animals gallop through fire to the tune of Iron Maiden's "The Trooper" is fucking sweet. I'm trying (and largely failing) to shoot a good photo of any of it, which the two preteen girls next to me find hysterically funny.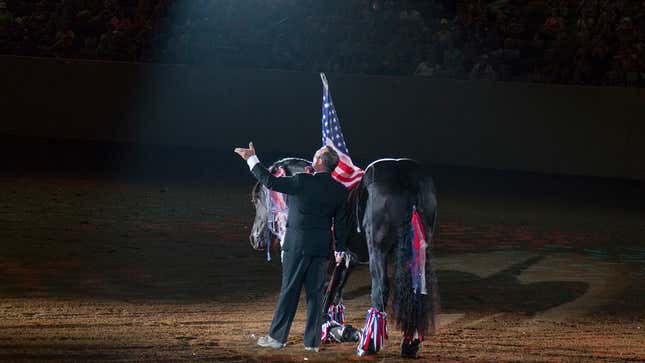 In the midst of the colorful program a man rides out in full regalia, a hunting falcon perched on his arm. "Where did all the kings go?" the MC asks rhetorically as the man quickly changes his costume, shedding his patriarchal robes for the vestiges of a cowboy. A different bird returns—a barn owl—while Ennio Morricone's The Good, The Bad, and The Ugly theme starts up.

And there it is, embedded in an impossibly sloppy visual metaphor: the yearning of adults in the horse hobby, buttressed by the great American lie of class mobility, is the universal cry for self-determination—either through monarchical wealth and power, or by seeking refuge in a land that, like Sergio Leone's wild west, doesn't exist. For the first time during the Celebration, the preteens seem nonplussed.
I see them again that night in the lobby of the Clarion, gawky and pigtailed, sharing several tearful hugs, as their parents' vicarious nostalgia slowly turns to impatience. They promise to stay in touch on Facebook and it reminds me of summer camp's fast, potentially enduring friendships. Bjorgo-Thorne was proud to tell me, "The friends that I have had the longest are all a part of the hobby."
By Sunday, the park will be mostly empty. The long drives home and fewer events will cull the herd down to a fraction. Stragglers will trickle out, green and white plastic bags in hand, talking about their future eBay listings. The Clarion's marquee will be switched to "Welcome KY Kickfest," a sneaker convention.