Kieron Gillen and Jamie McKelvie's The Wicked + The Divine is a special comic—but its next issue is going to be quite unlike anything the series has done before. Drafting in the talents of comic art luminary Kevin Wada, WicDiv #23 is getting meta to the max, and we've got an exclusive look inside.

Due out November 2, #23 isn't really a "new" issue of The Wicked + The Divine, but is presented as an issue of Pantheon Monthly featuring interviews with the Pantheon of Gods that make up the series' cast. It's also the first time Wada has done interiors for a comic—and you can check out some of his work below, making their debut here on io9.
"Issue 23 is basically our solution to the problem of 'How do you get Kevin Wada to do an issue of WicDiv?,'" Kieron Gillen told us over email. "Kevin is one of our favourite artists, and he loves us. However, he doesn't do classical interiors. How to get around that? The solution was to make the whole issue be an in-world magazine, full of interviews with the gods and everything else."
While Wada provides beautiful splash pages for each interview, McKelvie and series colorist Matthew Wilson still feature in the issue, providing art for the in-universe adverts for Pantheon Monthly, according to Gillen. "Jamie and Matt handle all the adverts in the mag, Kevin goes to town doing these huge illustrations of our cast and I write the articles."
G/O Media may get a commission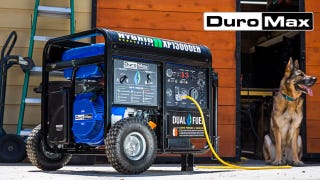 Black Friday Sale
DuroMax Generator Sale
But it's not just Gillen on writing duties. In order to get the feel of a real interview, he got in touch with several journalists and critics—Leigh Alexander, Dorian Lynskey, Laurie Penny, Mary H.K. Choi, and Ezekiel Kweku—to actually "interview" WicDiv characters.
"We realized [just writing the interviews] was far too simple, and [we wanted] to make it harder for ourselves," Gillen continued. "So we hit up some of our talented acclaimed critic friends and asked if they'd be willing to write the articles in their own voices. To get the material we set up a chat room, and I live role-played each god through the interview, which they transform into the article."
The result? Each god in the issue—The Morrigan (interviewed by Alexander), Baal (by Lynskey), Woden (by Penny), Lucifer (presented as a posthumously uncovered piece by Choi), and Amaterasu (by Kweku)—gets their own in-depth interview exploring their past and their relationship to the media-infused world of The Wicked + The Divine. "Basically, it's a dream of a magazine, where we just find the best illustrators and writers we know and let them go to town," Gillen told us. "It's ludicrously lavish, and seemed the natural start to the OTP decadence of our next arc, 'Imperial Phase.'"

---
The Wicked + The Divine #23 hits shelves November 2nd.