This is a brutally honest account of my first Himalayan climb — an attempt on the 20,305' Imja Tse — more popularly known as Island Peak. While it's a baby by Himalayan standards only a few other points on earth outside of Asia reach a higher altitude.
I had been planning my Himalayan trip for months. I didn't know what exactly I would do while I was there, but I was going. I figured that there'd be some trekking involved. I fantasized about climbing. So, when I discovered Nepal's "trekking peaks" after reading an old Lonely Planet that my roommate had given me, I knew that I had to climb.
Full Disclosure: Himalayan Ecstacy Nepal gave my friend Daniel and I a 30% discount on their Fixed-departure Island Peak climb.
We spent a couple of days in Thamel — the adventure center of Katmandu - to get everything in line for our trek and climb.
G/O Media may get a commission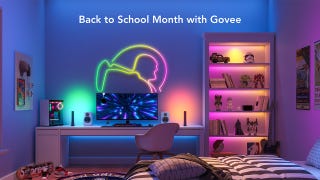 Back to School
Back to School Month with Govee Sale
Shortly after arriving in Kathmandu, Daniel and I met up with our friend Himal, who's a Nepali whitewater guide. Himal knows some people in the outdoor adventure industry. We told him that we wanted to climb, but didn't have a climb booked. So, after breakfast he took us to meet his friends at Himalayan Ecstasy Nepal.
Himalayan Ecstasy is a Nepali owned climbing operator (they offer guided treks too). The company's owner, Anil Bhattarai, started his career out as a porter before moving up the ranks to guide, climber, and eventually summited Everest twice before starting his own guiding company.
Most climbing companies in Nepal offer fully-guided packages, trek to climb. These usually range from about 15 days to a month, and can cost anywhere from $2,500-$5,000 for a trekking peak like Imja Tse. I preferred to trek independently (I don't need a guide to order dinner for me at a lodge where the staff speaks fluent English) and more importantly, I don't have that kind of money.
Himalayan Ecstasy is unique because they offer a fixed departure climb of Island Peak from their lodge in Chukhung (15,500') — the last stop before Island Peak base camp — which is about a five day trek from Lukla, where most people fly into. This allows climbers to do their own treks through the region and, when they're ready, simply show up and climb. Himalayan Ecstasy provides climbing hardware, helmets, harnesses, crampons, ice axes, and most importantly, a guide. You just have to bring your own climbing boots and a sleeping bag (both of which can also be rented in Chukhung. This allows climbers to travel light during their treks, and still have a Himalayan climbing experience without hauling around the tons of gear necessary for an expedition.
We hiked to the summit of Chukhung Ri (18,200') for our acclimation day. The summit offered incredible views of Ama Dablam and Lhotse.
Once you arrive in Chukhung and meet with your guide, you're greeted with amazing hospitality, more delicious food than you could possibly eat, and an endless supply of hot drinks — all of which are welcome comforts at such a high elevation. The day after arrival, you'll hike to the summit of Chukhung Ri (18,200') for an acclimation day, then have a rope training/gear check/rest day before heading to base camp (16,700') to begin your one-day climb of Imja Tse.
Imja Tse was originally named Island Peak in 1952 because it appeared as an island of rock in a sea of glaciers. It was renamed to Imja Tse in 1983, but most still refer to the mountain as Island Peak.
Why Go? Imja Tse is a relatively accessible mountain compared to other high altitude pursuits. It doesn't require a great deal of previous climbing experience (it was Daniel's first-ever climb, on his birthday, nonetheless,) it's relatively inexpensive to climb, and it already has a great infrastructure in place. It is however a physically and mentally challenging climb, it will take you to an altitude of more than twenty-thousand feet, and its summit offers incredible views of the Everest region.
For a standard fixed-departure climb of Imja Tse, Himalayan Ecstasy charges $650 — a fraction of the cost of a fully-guided trekking and climbing package.
Why spectate at an empty base camp (Everest) when you can participate at a real one?
The Climb: I woke at 11:40 pm, having started to piss myself. I'd been hydrating for days. I pulled on my parka and braved the below-freezing, hundred foot walk to the outhouse, and relieved myself for what seemed like eternity. Wish I remembered a pee bottle. I slipped back into the comfort and security of my Eddie Bauer Karakoram expedition-grade sleeping bag, hoping that another hour of sleep would cure my migraine. These are ordinary problems at 16,700 feet.
A light shined through our tent. "Tea?" It was 1:30 am and TJ, our Sirdar, woke us with breakfast-in-tent. I don't get that kind of treatment at my parents' house. My migraine was still present. Turns out that my body doesn't like sleeping at an elevation more than 2,000' higher than Mt. Whitney's summit — the highest point in the contiguous United States.
A few minutes later our guide LB, TJ's older brother, showed up at our tent door. The brothers are from Jiri, a town 100 miles away where we started our trek. LB was the first person to summit Everest from the Jirel ethnic group. By the time this article is published, he'll have completed a solo first ascent on an unclimbed 6,000 m peak outside of Chukhung. We were going to be his 2nd group to take up the summit of Imja Tse in two days; he'd take up three more groups in the three days after our climb.
"Are you going to climb?" he asked. I had gotten sun poisoning from napping outside less than two days before. The previous morning, I couldn't eat solid food and I could barely walk. By the time we hiked to base camp, I was feeling better. We had a mountain to climb. "Yes," I responded. "I just need to cure this headache." A dose of ibuprofen would do the trick.
Thirty minutes later, we were hiking out of base camp. "Bring poles," LB had ordered.
The night march ensued.
The first four hours of our climb would be a combination of Class 1 cross country hiking and Class 2-3 scrambling. Clouds had rolled in during the night and the sky was pitch black. Tiny headlamps danced on the mountain ahead of us - we were among the last groups starting the climb.
"Move faster!" a voice shouted from behind. "Hey asshole! If you haven't noticed, there's a dozen people in front of us moving just as slowly," I thought. Not a word escaped my lips, I had to make oxygen choices at 17,000'.
Darkness represents the unknown. The unknown could be a couple steps or a few hundred feet down.
Onward and upward we continued. I stayed close to LB; Daniel and TJ trailed a few paces behind. Our headlamps illuminated only the path in front of us; any excess light was absorbed into the black abyss below. We marched silently through the darkness for hours, the air thinning with every breath.
As we climbed more than half a dozen people passes us on their way down. They hadn't summited, they were turning around.
The sun began to rise as we strapped on our crampons and prepared to climb.
We finally reached the glacier at 6 am. By this point, we had climbed to 19,000'. The eastern sky was on fire. One man who was presumably suffering from a serious altitude sickness was being helped down by three climbers. He didn't look good. This was no joke, we were on a real high altitude climb.
Most of the glacier's steep snow pitches had fixed lines attached, but were located precariously close to crevasses.
Our team sat down and donned crampons. Roped up. We'd be walking on snow from here on out. The distance we traveled across the glacier was relatively short compared to the night's scramble. We climbed a couple of steep pitches of snow before planing out on the glacier above. We could see the summit up ahead. The first part of our climb was hard. The next would be harder.
We went up. Straight up.
We dropped our rope, then attached our jumars to the fixed lines for the last 1,000' to the summit. The slope started around 50 degrees; each pitch was steeper than the one before. The snow was hard from an entire season of climbing; we were walking up steep stairs of ice that crumbled under the occasional step. Step. Step. Slide the jumar up. Rest. Breathe. Rest. BREATHE! With each step, my strength and confidence faded. There was no way I'd make it to the summit.
Fixed to a new line. My mind had slowed to a crawl, but my body moved even slower. Every limb was filled with lead. At 20,000', there's less than half the oxygen levels found at sea level. I trudged on. Fixed to another line. There was no way I'd make it to the summit.
Yet somehow, there was the final pitch. I attached my carabiner to the last line and stumbled 60 feet to the summit. Collapsed on top. I made it. TJ attached my harness to the safety line; LB and Daniel made it to the top a few minutes later.
I gave 98% to get to the top. 2% had to get me down.
Photographic proof of our (slightly un-calibrated) elevation. We'll have that forever.
We remained on top only long enough to snap a few photos, clouds blocked the sun and icy winds blasted all around us. The four of us clipped in and rappelled down the 1,000' face. Elevation that we had fought so hard to gain was now lost in minutes.
Once back on the glacier, we roped up and marched off the ice, dodging abysmal crevasses along the way. We removed our crampons back at the rock; I forced down a Snickers bar, a couple of crackers, and a bite of Tibetan bread. It was laborious just to chew; as such, I hadn't eaten during the last twelve hours of exertion. I was completely and utterly exhausted; there was still 3,000' to descend.
Why do all of my adventures take place on other planets?
"What goes up, must come down" I repeated to myself, step after step after step. My pace slowed to a crawl; I couldn't keep up with the rest of our team, but at this point it was an easy hike/scramble down so I involuntarily took my time. I fought back the urge to vomit once. Twice. Three times. My body began to tremble uncontrollably; I shoved my face into a rocky crevice so that my puke wouldn't blow back in the wind. Heaved once. Warm bile gushed out onto the ground below. Heaved again. Nothing came up. Punched in the stomach once more. Nothing. I spit, wiped my beard, and continued hiking down. Bestady, bestady — slowly, slowly, in Nepali.
Daniel and LB were waiting up ahead. They took one look at me, then took my pack, divided the weight between themselves, and we continued hiking down. Bestady, bestady. Eternity passed. My mind focused on one thing: getting down. Left. Right. Left. I marched on until finally we reached the valley below.
Alive; down at last.
I made a beeline for our tent and collapsed inside. Tears began pouring uncontrollably from my eyes. It was the hardest thing I had ever done. I climbed higher than I ever had; and I made it down alive.
I carried an American flag all the way from a USAF base in Italy to the summit in Nepal. Photo by Daniel Bruce Lee.
What You'll Need to Bring: Warm clothes designed for climbing: base layer top and bottoms, softshell pants, lightweight insulated jacket, warm parka, shell jacket, shell pants, insulated gloves, wool socks, a warm hat, a buff. Glacier glasses, double-layer mountaineering boots (or warm singles,) at least a 0° sleeping bag for base camp. A medium-sized backpack. Trekking poles. Headamp. Widemouth water bottle w/insulating sleeve. And bring a determined spirit. You'll need it.
Trekking in from Jiri provided an incredible cultural experience in addition to acclimatization and conditioning opportunities.
How Do You Get There? Most people fly into Lukla. From Lukla, it's a five day trek to Chukhung. We spent an extra six days trekking from Jiri to Lukla. The extended trek provided additional acclimation opportunities and great conditioning for the climb. And it was an incredible experience overall.
Imja Tse was Daniel's first ever climb.
Who Can Do It? This is not an experience for the meek or out of shape. However, the climb didn't require much in the way of technical skill; previous climbing experience is not a prerequisite for the climb.
What We'd Do Differently: If I hadn't taken a two hour-long nap in the sun just days before the climb, I probably wouldn't have gotten sun poisoning. If I didn't get sick, I would've been a lot stronger; I probably wouldn't have had such a hard time on the way down. One of the most difficult parts of a Himalayan climb is staying healthy. Once you get sick at altitude, it's hard to recover without going down. Moral of the story: take extra care of your body when in the Himalayas. Stay hydrated; practice good hygiene. Don't sleep out in the sun.
Shell Jacket: Mountain Hardwear Alchemy ($395)
Insulated Jackets: Mountain Hardwear Super Compressor ($295), Outdoor Research Floodlight ($395)
Pants: Patagonia Alpine Guide ($229)
Boots: La Sportiva Nepal Cube GTX ($575)
Gloves: Mountain Hardwear Hydra Pro OutDry ($130)
Crampons: CAMP XLC 490 ($150)
Ice Axe: CAMP Corsa Nanotech ($160)
Helmet: Black Diamond Vapor ($140)
Glasses: Julbo Explorer Camel Antifog ($190)
Watch: Suunto Ambit2 ($250)
Packs: Mountain Hardwear BMG 105 Outdry ($360), Gregory Denali 100 ($399)
About the Author: Chris Brinlee Jr. is an adventure photographer and filmmaker who is currently traveling around the world. Follow his adventure on Instagram: @chrisbrinleejr.
Photos: Chris Brinlee, Jr.
IndefinitelyWild is a new publication about adventure travel in the outdoors, the vehicles and gear that get us there and the people we meet along the way. Follow us on Facebook, Twitter, and Instagram.