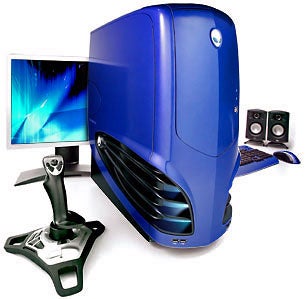 Do you hear that? It's the sound of graphics card queens everywhere jumping for joy with news that Alienware is set to ship two systems in the next few days featuring nVidia's latest graphics card beast, the 7950 GX2. Both the Area-51 7500 and the Aurora 7500 (pictured here) come with the nVidia card standard in addition to other components that you might expect to find in a boutique seller, like dual core AMD processors.
As for the card itself, as we mentioned earlier, it's fast and packs 1GB of onboard memory. In fact, the PureVideo technology that the card utilizes makes playing back high definition content a cinch. (Skypecast listeners might recognize the PureVideo name from last week, as the next incarnation of PureVideo—PureVideo HD—will provide the kind of horsepower necessary to play Blu-ray and HD DVD discs.)
The Alienware systems start shipping on July 3. The Area-51 7500 starts at $1,679 and the Aurora 7500 starts at $2,309.
Alienware Home Page [Alienware via Tech Digest]