GenCon is insane, there's no two ways about it. Between the exhibition hall, the thousands of games constantly going on 24-hours a day, the LARPing, movie-watching, seminars, writing, and just about everything else, it really is four days of overwhelming craziness.
Here are just some of the crazy and cool things we saw at GenCon!
Above: The True Dungeon was an insanely huge indoor dungeon that only appears once a year — at Gen Con. Over 6,000 tickets were sold for the two-hour long quests. With parties of ten adventurers, combat was handled with a shuffle-board like targeting system, and brains were definitely needed to get past any of the puzzles. According to owner Jeff Martin, only around 10% of players make it past the dragon at the end of the dungeon.

But GenCon was full of amazing stuff. Like these incredible latex weapons that everyone was snapping up.
G/O Media may get a commission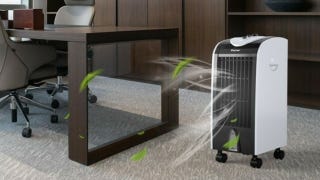 Save $10
Evaporative Portable Air Conditioner Cooler with Filter Knob

These pods were huge Battlemech VR simulators.


WoTC had set up a series of life-size statues around the halls. This is a troll...


Beholder...


and the ever unpronounceable Drizzt Do'Urden.


There was a whole stream of instructional seminars, including making things out of armor, like this chainmail bikini. Red Sonja would approve.


And these dice bags.


Every year they build up these immense structures out of cards and tape, and then destroy them for charity.


The new X-Wing miniature game.


Dust Tactics miniatures.


Potential box art for Fantasy Flight's new Star Wars games.


Their mega-successful Game of Thrones board game, enjoying new players thanks to the HBO show.


Catan and Mayfair were there in force.


Little Catan resource plushes! Never has "wood for sheep" been so adorable.


One of Paizo's big pieces of news was that WizKids will be making miniatures based on their concept art. This was an example mini.


Dice!


This furniture was by Geek Chic, and looked incredible (and incredibly expensive).


They were also showing off an astonishing multi-touch play table, capable of more than 100 input points. It recognizes individual units or fingertips, and can be used to GM against players remotely, or to play on directly.


OHGODWHY


These metal busts were by Ryan Feeney of Indy Art Forge, and each took hundreds of hours.


It wouldn't be GenCon without some miniatures!

This was the Ace of Aces speed painting charity event. One hour, mystery figurine, limited brushes and paint. All the miniatures are auctioned off as a lot on Saturday night, with proceeds going to charity.


Here's the result! Pretty freaking impressive for just one hour of painting!


These are the winners of the mini competitions. Best diorama and best in show.


Best sculpture


Best hatchling (I believe that's the youth division)


Best squad


Best vehicle


Best large figurine


Judges' award


Best single figure.


Dice made from fossils, meteorites, amber, and just about anything else imaginable! From Crystal Caste.


Lego's pseudo-RPG heroica.


John Tyler Christopher's art moved between Mucha Art Noveau and pin-ups with incredible use of negative space.


A lesson on making your own foam sword/bat/club thing from a pool noodle and some plastic piping.


These guys were demonstrating foam combat, and showing off some pretty skillful fighting.


Likewise.


Iron GM is an annual competition where GMs are given three random ingredients, and have one hour to craft a five-hour long adventure for a party of adventurers. This year's themes were Ogre Magi, Opera House and Oppression. Running the show was Lou Agresta (in the dapper orange suit), Jen Page and Rone Barton.


This year's winner was GM Necessary Evil, who took home an absolutely massive pile of swag.


I also grabbed the chance to playtest a couple of in development titles, like Shirak Agresta's Horseshoes, Hand Grenades and Atomic Bombs. A 20-30 minute game for 3-6 players, each taking the role of a Cold War superpower. You play from three decks, first you try and get your score up to forty points from the "horseshoe" deck, which gets you access to the "handgrenade" deck, and the ability to start hitting out at everyone else. Soon after that you move on to the "atomic bomb" deck, and it doesn't take much more before the entire globe disintegrates into thermonuclear slag.