It's a dark day for Lord of the Rings necklace collectors and elaborate pet furniture enthusiasts everywhere. This morning, SkyMall's parent company, Xhibit Corp. (different Xzibit) has filed for bankruptcy. Let's take a moment of silence for the garden bigfoots that may never be.
As in all things, it's apparently the internet's fault. According to Chief Executive Scott Wiley:
With the increased use of electronic devices on planes, fewer people browsed the SkyMall in-flight catalog. [This] resulted in additional competition from e-commerce retailers and additional competition for the attention of passengers, all of which further negatively impacted SkyMall's catalog sales.
In the announcement, Wiley claims that he's "extremely disappointed in this result and are hopeful that SkyMall and the iconic 'SkyMall' brand find a home to continue to operate as SkyMall has for the last 25 years." So SkyMall itself isn't necessarily dead quite yet—it's just running out of cash. Which is preposterous considering the wealth of important and wholly necessary consumer goods hiding within the catalogues hallowed pages. Important items like this:
G/O Media may get a commission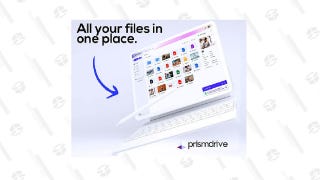 Save 97%
Prism Drive Secure Cloud Storage: Lifetime Subscription
And this:
And even this:
For now, Xhibit is seeking to sell SkyMall and its various other assets, so there's still hope that some good-hearted, enterprising young insane person will buy the company and keep its vision alive. The auction to buy SkyMall and all its wonderful assets is being held around March 24, so if you have a few millions of dollars lying around and a passion for absurd consumer goods—that insane person could be you. [PR Web, Wall Street Journal]
Image via Flickr