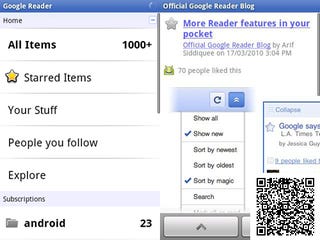 Google Reader: We've been waiting for an official Google Reader app ever since we used a G1 and after a gazilion different phones, it's finally here. And it's a goodie. According to Whitson from Lifehacker:
The app really is a great self-contained version of Google Reader, offering full searching and subscribing capabilities right from the app. You can also use multiple accounts, sync your preferences, and share articles with your friends (as well as view their shared articles).
Plus, you can use the volume keys to navigate through feeds and use the menu button to share articles through Facebook, Gmail and Twitter. If you like Google Reader, this is the one for you.

DoubleTwist AirSync: A super sexy music sync solution gets more useful by wirelessly syncing music AND videos AND photos to and from your Android device. You can think of it as an "iTunes for Android" without the heavy bloat. As in, DoubleTwist offers the sort of easy streamline syncing Android has lacked. It looks great and only requires your phone and laptop to be on the same Wi-Fi network. $1 for the first 10,000. $5 after.

Angry Birds Seasons: It's more Angry Birds! And how can you not want more Angry Birds? There's 25 new levels with a Christmas theme and also includes the 45 Halloween levels that haven't been on Android yet too.

Pocket God: Like on iOS, Pocket God is a silly little game where you "play God" by controlling little pygmies on an island. Like flicking them around, controlling the weather, and basically fucking with them in any way possible. There are 5 different "islands" to keep the simple gameplay fresh and since the app updates frequently (at least it did on iOS), you'll get new ways to mess with pygmies to make it worth your buck. $1
After a few weeks (and 500,000 downloads) of being in beta, Winamp for Android has gone public. The app allows for wireless syncing with a computer's music library; scrobbles from Last.fm and can be controlled via a widget.