The Zune, which comes out next week, isn't the only WiFi media player out there, remember.
The Archos 604 is here today, andI think the Archos might be better by some measures. Simply said, the 4.3-inch touchscreen is perfect, and extremely fingerprint resistant. Photo thumbnails were small enough to fit a ton of photos on the screen, with a little bit of zoom once you cursor over individual files. Video playback is blur free, and visible in indirect daylight. It'll even record TV/Video with the optional PVR kit ($100 for something that looks like it amounts to a dongle and dock). The hardware is beautiful. And the WiFi is somewhat useful, thanks to the Opera browser that allows for scaling of images and text so that it looks like a mini sized version of the browser on your PC. Unlike Zune, you cannot share with other users adhoc (player to player.) But there is a nifty file sharing mode that PCs on your home network should be able to hit.
But it ain't perfect because...well, click through the jump to find out why, or hit up our galleries for 70+ photos that show just about every beautiful angle and screenshot we could find.
Unfortunately, I never got that part of the player to work. And menu lag is about 1-2 seconds, making the Archos a pain when it comes to flipping through many pages of options. And 30GB isn't much for a player. You can't playback VOB or h.264 without 40 bucks in plugins from Archos. Very shady. The buttons were nicely designed, but each is a rocker. For example, the OK button actually works as an "enter" and "back" button depending on which side you click on.
Capacity: 30 GB* Hard Drive to store up to 85 Movies1, 300 000 photos1 or 15 000 songs1 Display: 4.3'' TFT (480X272 pixels) 16/9, over 16 million colors Video playback**: MPEG-42 (ASP@L5 AVI, up to DVD resolution) WMV (MP@ML, up to DVD resolution). With optional software plug-ins: - H.264 up to DVD resolution and AAC sound. - MPEG-2 MP@ML up to 10 Mbps (up to DVD resolution) and AC3 stereo sound. Audio playback**: Stereo MP3 decoding @ 30-320 Kbits/s CBR & VBR, WMA, Protected WMA, WAV (PCM/ADPCM). With optional software plug-ins: - AAC3 music files - AC3 stereo sound files Photo viewer***: JPEG, BMP, PNG Transfer directly your photos from a digital camera with the optional Docking adapter PDF viewer: Reads PDF documents. May not implement all PDF features; Video recording4: Via the optional DVR Station: record in MPEG-4 SP with ADPCM stereo sound, resolution VGA (640x480) @ 30 or 25 f/s, in AVI format. Audio recording: Voice recording through the built-in Microphone Via the optional DVR travel adapter or DVR Station: stereo line-in, WAV (IMA ADPCM or PCM) format. Interfaces: USB 2.0 High-Speed Device (compatible USB 1.1): Mass Storage class (MSC) and Media Transport Protocol (MTP). USB 2.0 Host : Mass Storage class (MSC) and Picture Transfer Protocol (PTP) (with optional docking adapter). Connections: 3.5 mm stereo headphone mini-jack and TV output (AV cable sold separately). Dedicated connectors to connect optional adapters and DVR station. Battery life ARCHOS 604: Music playback time: up to 16 hours5. Video playback time: up to 5 hours5 on built-in LCD Power source: Internal: Lithium-Ion Polymer battery. External: charges via computer USB port, or faster with the optional docking adapter or DVR Station. Scalability: Download firmware updates from www.archos.com Dimensions & weight: Approx. 130 x 78 x 17 mm - 5.1" x 3" x 0.65" Approx. 255 gr. - 9.05 oz Package includes: ARCHOS 604, headphones, dedicated USB 2.0 cable, DVR station adapter, pouch, QSG, legal and safety notice Minimum system requirements: For PC: Windows ME, 2000, XP, Media Center; Macintosh : OS X or higher (with USB Mass Storage Class support), Linux (with mass storage device support), USB port. For PlaysForSureTM video and subscription services: PC with Windows XP SP 2 or higher, Windows Media Player 10 or higher, USB 2.0 port.
G/O Media may get a commission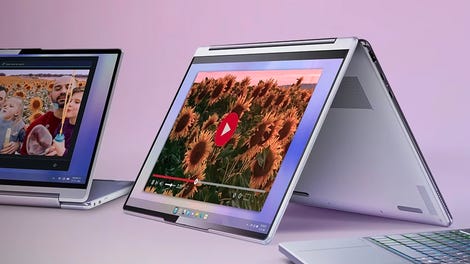 up to 70% off
Lenovo Spring Clearance
Archos 604 [Archos]