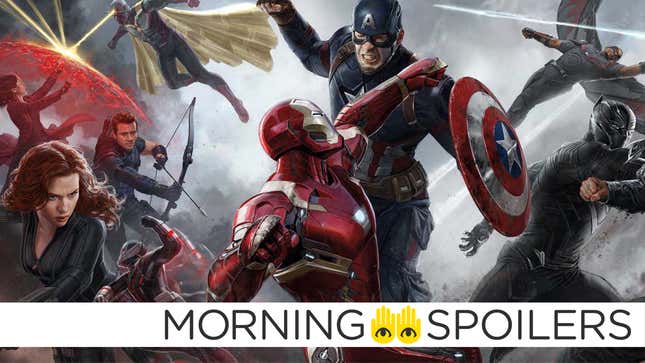 James Gunn no longer wants to do a ROM movie. New reports hint a touching scene between Luke and some old friends in The Last Jedi. Joss Whedon discusses casting Batgirl. Plus, more clips from Guardians of the Galaxy Vol. 2, promos for American Gods, and Ashley Eckstein on Ahsoka's Rebels return. Spoilers, assemble!
Boogeyman Star Sophie Thatcher Wrote Howl's Moving Castle Fan Fiction | io9 Interview

Avengers: Infinity War
E! has some watermarked set pictures—so you'll have to click the link to see them—of the Vision and Scarlet Witch sharing a loving embrace and a kiss. That's not too surprising, considering the characters have an infamous romantic history in the comics, but what is really intriguing is that Vision actor Paul Bettany is not in his usual synthezoid get-up, but instead looks like... regular ol' Paul Bettany. Could the Vision get a human form in the movie? It's it a dream sequence? Speculate wildly in the comments!
---
Aquaman
Yahya Abdul-Mateen II finally confirmed he's playing Black Manta on Twitter after receiving a congratulatory message from Dwayne Johnson. You just can't ignore The Rock!
---
Deadpool 2
Leslie Uggams has confirmed to Black Film that her character, Blind Al, is indeed returning for Deadpool 2.
Meanwhile, Josh Brolin is getting a cast of his entire head sculpted for the film.
---
Guardians of the Galaxy Vol. 2
During the the movie's red carpet premiere, Michael Rosenbaum dished about his mysterious character.
Well, I'm in the movie, and I can't really say the role I'm playing because James [Gunn] swore me to secrecy. But it's with Stallone, and it's an important role. I'm not allowed to say anything other than that. I can't wait to see it, I haven't seen it, and I've been waiting a year to be able to say something. So it's really exciting, I'm really excited. The fans are awesome. This is incredible. So I'm going to see it for the first time, too. I'm not going to tell you what I look like, either. You're just going to have to see the movie. I don't have to shave my head again, so that's good.
...and here are a couple more clips to whet your appetite, including a big space battle (thanks to Rocket's shenanigans), and an important lesson which red button to not press on an explosive device.
---
Scythe
Josh Campbell and Matt Steucken—the writers behind 10 Cloverfield Lane — have been hired to script the adaptation of Neal Schusterman's dystopian novel Scythe. In the story, all disease has been eradicated, leaving population control in the hands of hired Grim Reapers called "Scythes."
[Deadline]
---
Batgirl
Joss Whedon told Variety he doesn't have anyone in mind to play Batgirl just yet, during the premiere of Guardians of the Galaxy Vol. 2.
I don't have my eye on anybody. I feel like I'm creating this character, I'm gonna dialogue with her and then we'll see who joins that later on… I doubt it will be a name. This is somewhere where you go and find Batgirl and then you cast her.
---
Rom: Spaceknight
James Gunn told Screen Rant that he's no longer interested in making a Rom movie now that the character rights have reverted back to Hasbro— but he still may do something with the concept.
I don't because this is the problem. Rom, the story is owned by Marvel Comics. So the Dire Wraiths, you know, all that story is owned by Marvel Comics. The character and the toys are owned by Paramount, so you can't have both. Now you can't have the Spaceknight, at Marvel, and you can't have the Spaceknights without the story. What always interested me was more the story of the Spaceknights. People who gave up their humanity to save their planet was always very interesting to me, so there may be something to do with that, but it won't be with Rom.
---
Star Wars: The Last Jedi
Making Star Wars reports Luke Skywalker has a "rather emotional" story arc in the film, including a scene where, years after he last saw them, he catches up with Chewbacca and R2-D2. The site also reports Chewie makes friends with the bird-like (and presumably merchandisable) natives of Ahch-To, called "porgs"— including a nest of porg hatchlings.
Lastly, the report concludes Luke does indeed teach Rey the ways of the Force, but not in the Jedi tradition. Instead, he puts his "own spin on it," which seems to be supported by his statement in the trailer that the Jedi as an organization must end, giving way to a different kind of Force user.
---
The Shape of Water
Guillermo del Toro's latest monster-filled period drama hits theaters December 8. [Coming Soon]
---
Princesses
Sony's Amy Pascal is looking to acquire the rights to the public domain fairly tale princess team-up movie. [The Tracking Board]
---
Mission: Impossible 6
Henry Cavill sports a snappy mustache in a new picture from the set
---
Chrononauts
On Twitter, Mark Millar claims he created his comic Chrononauts as a vehicle for Chris Pratt and Chris Hemsworth. Not that the movie adaptation will actually star those Chrises, but still, would be fun, wouldn't it?


---
Despicable Me 3
There's plenty of new footage (and minions, of course) in these two new TV spots.
---
Star Wars: Rebels
Speaking with Yahoo, Ashley Eckstein teased the (eventual) return of Ahsoka Tano, in the wake of Dave Filoni's T-shirt-based confirmation of her return for the show's final season.
I want to know more about Ahsoka's future as this kind of neutral character. Her lightsabers are white because she's neutral. She's not on the Dark Side, she's not a Jedi. She's not even a full-blown Rebel. What is she doing? Where is she? All I can say is, you'll see Ahsoka again.
---
Agents of SHIELD
Jed Whedon has confirmed to Entertainment Weekly that Mace is "really dead" after the director bravely sacrificed his life in the Framework reality in this week's episode.
This season is proof that death is, at times, fleeting on our show, but he is really dead. One of the things [we decided] from the very beginning in talking about doing some version of an alternate world was the stakes had to be real, so our decision to make it a virtual world came with great bonuses but also came with the challenge of, 'How do you still make the stakes high?' In order to make it life or death, we felt like we needed some death.
---
American Gods
Finally, meet Easter and Czernobog in two new promos for the show.


---
Additional reporting by Gordon Jackson. Banner art by Jim Cooke.