The very first time you touch the BlackBerry Storm—RIM's first all-touchscreen keyboard-free smartphone, just announced for Verizon Wireless—you will be startled. No matter how many times your fingers dance on the screen like you've been trained on every other touchscreen, nothing will happen. At least, not until you push the screen all the way down and you feel a click. Yes, the screen is a giant button, one you have to punch for basically every action, even every letter you type, completely breaking the touchscreen paradigm. Surprisingly, it works.
G/O Media may get a commission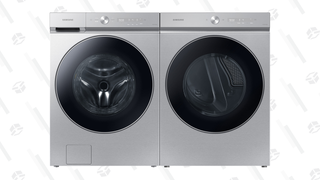 Get $500 back in credit
Last Chance: Samsung Bespoke AI Washer and Dryer Preorder
While the Storm's defining feature is this, what RIM ungracefully calls ClickThrough, the phone is much, much more. The term "iPhone killer" is clumsily tossed around by bloggers and journos (including us) to describe almost any phone with a touchscreen, but by trying to actually innovate rather than imitate, RIM has conjured up the phone most deserving of the title yet. It's got an innovative multi-touch UI (thanks to ClickThrough), runs on Verizon's EV-DO 3G network in the US, as well as any GSM HSPA 3G networks when abroad, so it's a true global smartphone. OK, maybe there never will be an "iPhone killer"—it's a stupid idea anyway—but based on our limited time with the BlackBerry Storm, it seems like it will definitely hold its own against every other marquee handset on the market. Typing on that clicky touchscreen Let's talk more about ClickThrough, since using the Storm means using it. RIM co-CEO Mike Lazaridis, who notoriously said he can't type on a piece of glass, told me that it was in development for years as they looked to evolve past the trackball while accomplishing something no touchscreen has before: Separating navigation from confirmation. So you have to push the touchscreen like a button every time you do something. Typing with it takes some getting used to, even if you can fly on an iPhone or other touchscreen device, because you have to retrain yourself to actually lift your thumb back off of the screen to let it pop back up between every single letter. Since you can't "flow" continuously in a stream but are pounding out a series of clicks, it's hard to tell in the limited time I had with it how fast you would be able to go once you're completely re-trained. It's a unique and finely tuned sensation, and I liked it, but I could definitely see people loathing it. Getting around More on navigation. One annoyance when typing is that it highlights letters in blue rather than doing a magnified pop-up like the iPhone or LG Vu, so letters will probably be obscured if you have fat fingers. One of the weird inconsistencies (there are a few) with needing to clickthrough for an action actually occurs with copy and paste, which took a few seconds to get down since it involved a long hold and drag when it was demoed for me—they oddly didn't show me the multitouch method shown in the leaked user guide, though RIM later confirmed it would be there. Also worth noting is that it has an accelerometer (which seemed to be a hair more sensitive than the iPhone's), so it detects whether it's in landscape or portrait orientation, using the QWERTY keyboard for text entry in the former and SureType for the latter. While the BlackBerry OS has been optimized for grubby fingers, all of the standard BlackBerry navigation paradigms are in play, so there's plenty of pushing the four buttons along the bottom of the screen: menu, back, send and end like you would on a regular BlackBerry to get around. Browsing and network The browser improves upon the one in the Bold and is even more competent at rendering HTML. You have a couple different ways to navigate around a page, though the most unique makes use of the whole screen as a trackpad, so that once you have the cursor pop up, you can put your finger anywhere on the screen to move it around, just like on a notebook. It's context sensitive, so it'll do what it's supposed to when you hit a link or whatnot. It had some trouble with a text entry field in the browser, as well as some other jitters, but then it obviously wasn't a final version. RIM's concern with the user experience is very apparent, so I expect it to be cleaned up when the final version ships in November, though I'm not holding my breath for flash support. Overall, it was a solid browsing experience, though one thing to take note of that is per Verizon standards, you'll be doing it over EV-DO, not Wi-Fi, since it doesn't have the latter. Lack of Wi-Fi is one of the biggest knocks on the phone, no matter how damn good Verizon's network might be. The fact that it packs both EV-DO and HSPA into a single phone is a truly impressive feat worth marveling over, but why couldn't they cram Wi-Fi in there too? Screen, multimedia and consumer features The screen is gorgeous. I haven't seen the HTC Touch HD in person, but barring that, the 480x360 184-pixel-per-inch stunner could be the best screen on the market. It's bright, contrasty, the colors are beautiful and the viewing angle is ridiculous. I think I could watch the whole of Iron Man on it. Media navigation isn't as intuitive as the iPhone, basically re-using the usual BlackBerry UI, but it's not difficult to get around by any means. Still, RIM clearly intends to take the fight seriously, since the Storm supports a bunch of audio and video formats, will come with an 8GB microSD card and supports stereo Bluetooth. It'll also have Verizon's V CAST, naturally. The Storm is RIM's most consumer-oriented device yet, but it's also still a BlackBerry heart, with all of the standard enterprise features like Office document editing, full email search, Exchange support—everything a BlackBerry user expects. Not to mention littler touches like BlackBerry Maps (it'll have Verizon's VZ Navigator too), BrickBreaker and Facebook pre-installed. The outlook You've already seen the app store in leaks, and RIM told me that there will be an SDK for the phone in short order. The weird explosion of consumer-oriented BlackBerry apps a little while ago was not a coincidence—RIM seems fully aware that a strong developer community and killer apps are more critical than ever in the consumer smartphone market. This will be the most important phone in Verizon's lineup, and from the looks of it, the best. Some people will hate ClickThrough—it's not a perfect solution, but it's genuinely innovative and really damn good. Some people will hate that it's not the iPhone (or the G1, since it's another tightly integrated hardware/software package). But for BlackBerry users looking for a touchscreen phone, or Verizon customers who don't want to do without the carrier's superior coverage area, this is the best there is. If you've got questions, leave them in the comments, I'll answer them.
BlackBerry Takes the World by Storm on the Most Reliable Networks in Europe and the U.S. Verizon Wireless, Vodafone and RIM Deliver the Power of a Smartphone with the World's First Tactile Touch Display on a BlackBerry BASKING RIDGE, N.J., NEWBURY, England, and WATERLOO, Ontario – Verizon Wireless, Vodafone Group (NYSE:VOD)(LSE:VOD) and Research In Motion (RIM) (NASDAQ:RIMM)(TSX:RIM) today announced that the BlackBerry(R) Storm(TM) will be available later this fall, exclusively to Verizon Wireless customers in the U.S. and Vodafone customers in Europe, India, Australia and New Zealand. Designed to satisfy the needs of both consumers and business customers, the BlackBerry Storm smartphone combines the powerful communications features, global connectivity and personal productivity advantages of the BlackBerry(R) platform with a revolutionary touch-screen technology that dramatically enhances the touch interface and enables easy and precise typing. The world's first "clickable" touch-screen responds much like a physical keyboard and also supports single-touch, multi-touch and gestures for intuitive and efficient application navigation. In the U.S., Verizon Wireless customers will benefit from the nation's most reliable wireless voice network and the pervasiveness of Verizon Wireless' reliable high-speed 3G Evolution-Data Optimized (EV-DO) Revision A (Rev. A) network for rich Internet browsing and multimedia applications. In Europe, India, Australia and New Zealand, Vodafone will support customers with its high-speed 3G mobile broadband networks and the power and reach of the world's leading international mobile communications group. "We are proud to introduce the first touch-screen based BlackBerry smartphone together with Verizon Wireless and Vodafone," said Mike Lazaridis, president and co-chief executive officer at RIM. "The BlackBerry Storm is a revolutionary touch-screen smartphone that meets both the communications and multimedia needs of customers and solves the longstanding problem associated with typing on traditional touch-screens. Consumers and business customers alike will appreciate this unique combination of a large and vibrant screen with a truly tactile touch interface." "The BlackBerry Storm offers our customers more ways to stay connected to both their personal and professional lives - whether in their communities or around the globe," said Mike Lanman, vice president and chief marketing officer of Verizon Wireless. "The BlackBerry Storm combines the reliability of our 3G network with the dependability and network efficiency of the BlackBerry platform to deliver our customers the ultimate wireless experience - all in one of the coolest smartphones available on the market today." "We are delighted to bring the power of the purpose built BlackBerry Storm, directly into the hands of consumer and business customers," said Frank H. Rovekamp, global chief marketing officer, Vodafone Group. "With its unique clickable touch-screen, giving access to all the desirable multi-media features and services such as browsing, music and video, turn-by-turn satellite navigation, messaging and social networking, and BlackBerry's mobile heritage and strong business reputation, the BlackBerry Storm is being brought by Vodafone into the consumer world. With Vodafone's ultra high-speed, reliable mobile network and this exclusive and exciting new smartphone, there has never been a better time to be with Vodafone." Touch and Feel The BlackBerry Storm smartphone comes with an innovative touch-screen that actually depresses ever so slightly when the screen is pressed. The user distinctly feels the screen being pressed and released with a gentle "click", similar to the feeling of a key on a physical keyboard or a button on a mouse. The "clickable" touch-screen gives the user positive confirmation that they have made a selection and the result is a dramatically enhanced touch interface and a highly-intuitive typing experience. In addition to the familiar navigation keys ("phone," "menu" and "escape") that are common to other BlackBerry smartphones, the new BlackBerry Storm adds support for multi-touches, taps, slides and other touch-screen gestures, so customers can easily highlight, scroll, pan and zoom for smooth navigation. The BlackBerry Storm smartphone also features a built-in accelerometer, allowing its touch-screen to automatically switch between landscape mode and portrait mode as the user rotates the handset - RIM's SureType(R) keyboard layout is available in portrait mode and a full QWERTY(1) keyboard layout is available in landscape mode. Other relevant features, such as cut and paste, are only a touch away for the ultimate smartphone experience. World Class Smartphone The BlackBerry Storm is a top-of-the-line 3G mobile phone with premium features and global connectivity. In the U.S., the BlackBerry Storm 9530 gives Verizon Wireless customers 3G EV-DO Rev. A/CDMA technology - and (2100Mhz) UMTS/HSPA and quad-band EDGE/GPRS/GSM for global use. The BlackBerry Storm 9500 from Vodafone supports (2100Mhz) UMTS/HSPA and quad-band EDGE/GPRS/GSM networks. Browsing is Fast and Easy Customers will enjoy a full HTML high-performance browser that works in either portrait or landscape orientation. Navigating Web sites is fast and easy with the touch-screen interface that lets users double tap to zoom in and slide their fingers to scroll and pan. Icons along the bottom of the display allow for quickly accessing Web sites, switching between "Page View" and "Column View" as well as the ability to toggle between "Pan" mode and "Cursor" mode. The enhanced browser supports file downloading, streaming audio and video (RTSP), and with its built-in RSS support, new content from supported Web sites can be automatically pushed to the user. Staying Connected The BlackBerry Storm smartphone brings the full power of the industry's leading mobile e-mail and messaging solution without compromise. It supports personal and corporate e-mail and text (SMS), picture (MMS) and instant (IM) messaging on the most prevalent consumer and enterprise platforms, as well as easy access to popular social networking sites. Packed with Additional Features The BlackBerry Storm smartphone, available from Verizon Wireless and Vodafone, also includes the following features and functions: - BlackBerry(R) Internet Service, BlackBerry(R) Unite!, BlackBerry(R) Professional Software and BlackBerry(R) Enterprise Server support - Preloaded DataViz(R) Documents to Go(R) allows users to edit Microsoft(R) Word, Excel and PowerPoint files directly on the handset - 3.2 megapixel camera with variable zoom, auto focus and a powerful flash that also provides continuous lighting when recording video - Built-in GPS supports location-based applications and services, as well as geotagging of photos - 1 GB of onboard memory storage and a microSD(TM)/SDHD memory card slot that supports up to 16 GB of additional storage - Media player that can play movies smoothly in full screen mode, display pictures and slideshows quickly and manage an entire music collection; playlists can be created directly on the handset and there's an equalizer with 11 preset filters - including "Lounge," "Jazz" and "Hip Hop" - for customized audio ranges when using wired headphones or external speakers - A 3.5 mm stereo headset jack, support for Bluetooth(R) stereo audio profile (A2DP/AVRCP) and dedicated volume controls - Sleek, elegant design with contoured corners, stainless steel back and chrome accents surrounding its large (3.25") glass lens; its exceptional 480 x 360 resolution at 184 ppi is crisp and bright with eye-pleasing clarity - An ambient light sensor that automatically adjusts backlighting for ideal screen viewing and an accelerometer that allows customers to view applications in either portrait or landscape mode by simply rotating the handset - Removable and rechargeable 1400 mAhr battery that provides approximately six hours of talk time on 3G networks and 15 days of standby time