Despite the fact that it could prove to be a spectacularly bad idea, rumors are once again milling that Amazon is planning to launch a phone. Now, Bloomberg reports that Bezos and co are in the process of developing an Android handset.
According to Bloomberg, two people "with knowledge of the matter" have told it that Amazon is currently working with Foxconn to produce the device, which would reportedly run a version of Android. Another source told Bloomberg that Amazon is also in the process of growing its portfolio of wireless technology patents to help complement the phone and "help it defend against allegations of infringement".
The move would see Amazon attempting to take on Apple, along with other leading phone manufacturers like Samsung. But despite the Kindle Fire's success in the tablet arena, we've in the past been skeptical about the company replicating that achievement in a phone:
The Fire's minimalist UI just wouldn't translate to a phone's small screen-you couldn't read anything. It'd be a nightmare. So it'd have to make their Android device seem more like an Android device, which would be a regrettable regression, and one less reason to care. What excitement is there in yet another Android phone in a flaming lake of them, even if it carries Kindle branding and Prime access? Without the shelf metaphor, the Fire would be just another tablet, and a Kindle phone would be just another handset.

So please, Amazon-stick with what you've done well. Nobody thought you could pull off a real tablet, but you did with aplomb. But don't get cocky. You'll screw it all up. People might buy the Fire because it says KINDLE on it, but they'll enjoy it because of the design. I doubt we'll be able to say the same about a phone.
G/O Media may get a commission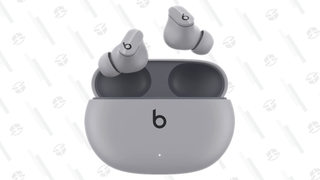 Of course, Bloomberg's report may be little more than wild speculation. But maybe, just maybe, given the ongoing rumblings there's something in it. If so, we'll be waiting nervously to see just how Bezos handles it. [Bloomberg]