I'm going to make a prediction here: HD DVD is going to win this horse race and Blu-ray is going to be another Betamax. There are too many defections by former Blu-ray players and even Sony is hedging its bets. I know the arguments—Blu-ray, at least in terms of disk space, is better than HD DVD. But since when did being better make you a winner in high tech?
I could be—and in a way, I hope I am—wrong. But for what it's worth, Blu-ray will hit the streets on May 23. New releases will cost $39 and classics will cost $29. Luckily, some of the first titles will be:
50 First Dates, The Fifth Element, Hitch, House of Flying Daggers, A Knight s Tale, The Last Waltz (MGM), Resident Evil Apocalypse and XXX.
A Knight's Tale! I've always wanted to see that in ultra-crisp HD!
Blu-ray Player and Discs To Launch 5/23 [ZatzNotFunny]
G/O Media may get a commission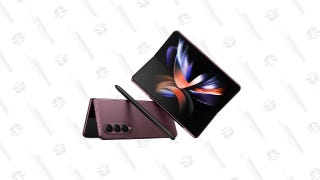 Save Up to $300
Galaxy Z Fold4