There's advertising — and then there's badvertising, and we saw a lot of the latter at Comic Con. So we rounded up some of the most epic of the weekend's advertising fails for you.
I have no Earthly idea why these women were recruiting for V. I mean, it's got aliens in it. That should be enough. No need to bring out the T&A just yet, are we that desperate already?
Additional reporting, pictures and writing from Julia Carusillo, Ray Wert and Cailtin Petrakovitz
Kotaku reported on Dante's Inferno boob marketing fiasco called "Acts of Lust." A contest asking Conners to "snap photos of themselves with hot women at the comic-con," they later apologized.
G/O Media may get a commission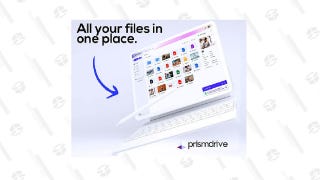 Save 97%
Prism Drive Secure Cloud Storage: Lifetime Subscription
What do surgically-enhanced women dressed in slinky, silver unitards have to do with a kid's game called "Mind Flex?" We don't know, but hundreds of interested convention-goers pushed the tykes out of the way to find out. Wait, what was that question we were supposed to be thinking about again? Sorry, we're distracted.
Speaking of petroleum-derived plastic orbs, SciFi SyFy has some serious balls touting their name change like this at Comic Con. Just look at 'em. They're huge!
Well, you certainly won't become the caped crusader wearing those hats.
Speaking of hats — "choose my identity?" Am I supposed to believe I really need a hat to tell me whether I'm good or evil? What is this, Harry Potter?
I would be seriously pissed off if I came outside to find a slew of "Dragon Age: Origins" decals adorning the side of my plumber's van. I know I certainly wouldn't be buying the video game!
A convention filled with people who draw things for a living, and this is the best Batman you could come up with? Really?
Wondering why this NBC Store moving billboard's included as an example of badvertising? It's a good-for-the-environment GEM electric car. The billboard? It's running off the huge gas-powered generator underneath it. That's like using a Tesla roadster to haul a HEMI dragster to the track.
What do roller-derby girls have to do with promoting District 9? No idea. We're going to assume they don't know either as they were also promoting Whip It. Which one is it ladies which one, I'm so confused.
Playboy and Comic Con? Sure, we see a match there. Playboy, Comic Con and ice cream? Not so much.
Save the cheerleader, save the popcorn? A Heroes carnival set up across the train tracks from the Convention Center? Next up SNOW CONE OF DEATH.
Clever. Kudos for taking it all the way my friend. Picture from the awesome Rad Nerd flickr stream. Funny crew over there — well done gang.
Nothing says "respect me" more than a Team Jacob or Team Edward Burger King Crown. Especially since the Where The Wild Things Are Crown showed them what was really up.
A SciFi SyFy fan gets the last laugh.
Gamer Raver Gear, sadly tragically unsexy in real life too.
Enough with the clever menu items, this was in an Indian restaurant.
Great, until someone stole my room key for the free episode.
I believe this funeral was for Criss Angel's new show, but I'm not 100% sure because when I hear the words Criss Angel I run in the other direction. But seriously, guys — super fun campaign.
Nothing says, let's kill a Nazi like a segway. Peace to you too man.
Additional reporting, pictures and writing from Julia Carusillo, Ray Wert and Cailtin Petrakovitz