Hemsworth also offers some hope for Thor's future after Avengers: Infinity War and its follow-up. J.A. Bayona talks about high heels and Jurassic World: The Fallen Kingdom. Showtime still wants a Halo TV show. Ryan Murphy looks to the future for American Horror Story. Plus, new images from Black Lightning. Spoilers now!

Star Trek 4
Speaking with IGN, Chris Hemsworth stated he hasn't heard anything about a fourth Star Trek—in which he was meant to make a time-bending return as George Kirk, the dead father of Chris Pine's James Kirk—following Quentin Tarantino's alleged takeover of the franchise:

I don't know. It's a reminder to call J.J. and ask the same question because I haven't heard any updates on it either.
---
Avengers: Infinity War
In another interview with IGN, Hemsworth also stated he feels a "renewed sense of excitement and enthusiasm" at the prospect of potentially playing Thor in future Marvel movies, now that his contract is done.
I've just, literally two days ago, finished Avengers 4 and that's my contract – my preexisting contract is done now, so it's kind of like, 'Wow, that's it.' Two or three films ago I was like, 'Okay, a couple more.' I was enjoying it but I was like… I felt a little restricted. And after this last experience with Taika, and actually these last two Avengers, I feel like we've reinvented the character a number of times – even in these next two, he evolves again, and you don't get that opportunity often in a franchise. So I definitely feel a renewed sense of excitement and enthusiasm, and more so than ever, I think.
G/O Media may get a commission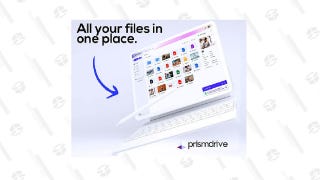 Save 97%
Prism Drive Secure Cloud Storage: Lifetime Subscription
---
Ant-Man 3
Michael Pena may have revealed Marvel's plans for a third Ant-Man—please, hold your surprise—during a recent interview with IGN.
We talked about it on the first day. It's a whole different kind of club to be in, the Marvel Universe. I don't know if they'll use me for the third movie, I still really don't know. It's cool to make a little bit of a mark on that Marvel Universe and it's kind of a cool club, they run a really cool studio.
---
Rampage
During a panel at the Television Critics Association, Malin Ackerman discussed her character, the villainous Dr. Claire Wyden:
It's fun, I get to play the villain in it which was unique for me because I haven't played a villain before. It's going to be big explosions and animals. Not quite as cartoony as a Batman or anything like that. The villain wants power. What else does a villain want? Her thing is she wants to create the most powerful weapon that she can sell for money, basically. That may be in the form of super powerful animals. It's basically, again, just power and money and control is what she wants ultimately.
[/Film]
---
Batgirl
Lindsay Lohan started a Twitter campaign over the weekend to play Barbara Gordon in Joss Whedon's Batgirl, because these always work out.
---
Jurassic World: Fallen Kingdom
In a recent interview with CinePop director J.A. Bayona reconfirmed what Colin Trevorrow previously said, that Bryce Dallas Howard's Claire won't be running in high heels this time around.
No, no. Definitely, she's more prepared in this one. In the first movie … it was more like she was caught by surprise. But in this one she's totally ready and prepared for the adventure.
---
Red Sparrow
Jennifer Lawrence is not Black Widow in the latest TV spot for Red Sparrow.
Coming Soon also has a poster and a gallery of images. Click through for more.
---
Annihilation
Natalie Portman takes point in the latest poster for Annihilation, courtesy of Coming Soon.


---
A Wrinkle in Time
A new TV spot for A Wrinkle in Time debuted during last night's Golden Globe Awards, including some new footage.


---
Outlander
Colin McFarlane has been cast as Ulysses, a former musician sold into slavery, and now owned by Jamie's Aunt in Carolina, Jocasta. [Entertainment Weekly]
---
Legion
During a panel at the Television Critics Association, Noah Hawley revealed season two begins with a time jump.
I didn't want to go in season two it's all clarity all the time, so we built in a time jump. I think that's the fun of the show, the mystery of trying to figure things out.
[/Film]
---
Halo
The Halo TV series under the auspices of Steven Spielberg is "still in very active development," according to Showtime President and CEO David Nevins at the Television Critics Association winter press tour. [TV Guide]
---
American Horror Story
Also during the Television Critics Association press tour, Ryan Murphy revealed season eight of American Horror Story will be set in the future.
All I'll say about it is I want to go to the future — still topical, but the future, which I've never done. I pitched it to [FX chief] John Landgraf today right after his TCA panel, and he loved it, but he's asked me not to say what it is. I told him and he fell out of his chair with joy. I think people will like it, it's different from what we've done before, but I always try and do the opposite of what I've done on that show.
Murphy went on to clarify the new season would not be set in outer space.
---
iZombie/The 100/The Originals
The CW has released a slew of returning dates for several shows. iZombie returns February 26, The Originals' final season begins April 20, and The 100 returns April 24. [KSiteTV]
---
Black Lightning
Coming Soon has photos from the first two episodes, "The Resurrection" and "LaWanda: The Book of Hope." Click through for more.
---
Riverdale
Archie and Hiram wrestle for the affections of Veronica Lodge in a totally not weird at all way, in a new photo from TV Line. More photos from Riverdale's winter premiere at the link.
---
Arrow
The Green Arrow Revenge Squad assembles in photos from January 18th's episode, "Divided." Head to the link for more. [Coming Soon]
---
Ash Vs The Evil Dead
Finally, Ash offers parental advice in a new video from Ash vs. The Evil Dead's official Twitter.
---
Banner art by Jim Cooke.