Almost all of the status quo that Siege seeks to overturn got its start in 2006's Civil War event: Iron Man and Captain America falling out (and, in fact, coming to blows on more than one occasion)? That was here. An over-present government seeking to control the activities of superheroes? From here. Norman Osborn's rise to power? Yeah, that begins here as well.
The short version of the Civil War storyline goes a little something like this: After the accidental destruction of several city blocks - resulting in the death of 600 bystanders, including 60 children at a nearby elementary school - during a fight between superheroes and supervillains, the US Government passes The Superhero Registration Act, requiring all superheroes inside the United States to surrender their identities to the Government and become federal employees. Captain America, believing this to be an attack on civil liberties and individual freedoms, refuses and goes underground alongside a group of followers trying to overturn the decision before the act takes effect, and is opposed not only by the authorities but also pro-registration heroes, led by Iron Man. After a series of truly questionable decisions (Not least of which the government employing known psychopaths under the management of Norman Osborn, himself the mentally unbalanced former Green Goblin, although there was also an extra-dimensional prison in there and that whole "Talking is for idiots, let's fight" thing running through the entire series), Captain America surrenders himself as a way of stopping the violence.
The Registration Act takes effect, as does "The Initiative," a program giving each of the States in the US its own superhero team. Iron Man is made director of law enforcement agency SHIELD, and given the responsibility of policing the superhuman population of the US, while Captain America is assassinated on his way to trial for opposing the Act. Sucks to lose, Cap.
Recommended Reading
Marvel Comics: Civil War
G/O Media may get a commission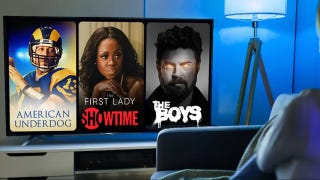 UNDER $1
99¢ Prime Video Channels